Milk Thistle (Silybum Marianum) is a favorite herbal remedy amongst botanical medicine experts and Naturopathic Doctors for its strong hepatoprotective properties that support liver function and protect the body against toxins.
Milk Thistle is a plant native to Europe, North Africa, the Middle East, and Asia and is now found throughout the world.  Its name comes from the white splashes of color in its leaves.  When crushed, the plant produces a milky white liquid.  Because of these features, the story goes that people originally referred to the plant as "Mother Mary's Milk" or "Saint Mary's Thistle".
It is considered a nutritional supplement and is not found in dietary sources.  The most common way someone takes Milk Thistle is as a capsule, a tea, or a powder.
For the general population, this botanical remedy is considered safe for most people, and doesn't have many contraindications with other therapies or medications.
For an individual with Hemochromatosis, Milk Thistle may be one of our very best remedies!
Health Benefits of Milk Thistle
Traditional use of Milk Thistle dates back to the 4th century BC.  A first century Roman writer, Pliny the Elder, stated that the juice of the plant was excellent for "carrying off bile".  Medical use in treating liver disease was noted in the 1700s. (Reference)
Health benefits of Milk Thistle are most commonly associated with liver function.  While the majority of both traditional use and medical research of Milk Thistle has focused upon its effects upon the liver, this plant remedy has a wide range of benefits to overall health.
Conditions of the liver that may respond to Milk Thistle include (from LiverSupport.com):
Fatty Liver, Nonalcoholic Fatty Liver Disease (NAFLD)

Nonalcoholic Steatohepatitis (NASH)

Fibrosis and Cirrhosis

Chronic Active Hepatitis

Regular Moderate to Heavy Alcohol Use

Drug and Alcohol Induced Liver Damage

Alcoholic Cirrhosis

Hepatic Toxicity Caused by Steroid Usage

Environmental Sensitivities and Toxins
Overall health benefits of Milk Thistle may include:
Powerful Antioxidant

Anti-Inflammatory

Improves Blood Sugar Levels

Improves Cholesterol Levels

Assists Healthy Digestion
And, of course, Milk Thistle may provide numerous health benefits to a person with Hemochromatosis!
How does Milk Thistle work?
Silymarin is the name of the most prevalent and active constituent of the many compounds found in Milk Thistle.  Technically speaking, these nutrients collectively are categorized as flavanoid-lignans (aka "flavanolignans") and contain a number of active substances. From Examine.com's Milk Thistle page:
Silymarin and the other active chemicals are known to exert a liver protective function as an antioxidant and anti-inflammatory agent, by protecting the cells from free radical damage due to toxins (such as excess iron!).
Not only does Milk Thistle help prevent oxidative damage, but research has also demonstrated its ability to help the liver to repair and regenerate from cellular damage. From http://www.ncbi.nlm.nih.gov/books/NBK11896/
Evidence exists that milk thistle may be hepatoprotective through a number of mechanisms: antioxidant activity, toxin blockade at the membrane level, enhanced protein synthesis, antifibriotic activity, and possible anti-inflammatory or immunomodulating effects.
And from http://www.ncbi.nlm.nih.gov/pubmed/17213517
It acts by antioxidative, anti-lipid peroxidative, antifibrotic, anti-inflammatory, membrane stabilizing, immunomodulatory and liver regenerating mechanisms. Silymarin has clinical applications in alcoholic liver diseases, liver cirrhosis, Amanita mushroom poisoning, viral hepatitis, toxic and drug induced liver diseases and in diabetic patients. Though silymarin does not have antiviral properties against hepatitis virus, it promotes protein synthesis, helps in regenerating liver tissue, controls inflammation, enhances glucuronidation and protects against glutathione depletion. Silymarin may prove to be a useful drug for hepatoprotection in hepatobiliary diseases and in hepatotoxicity due to drugs. The non traditional use of silymarin may make a breakthrough as a new approach to protect other organs in addition to liver.
In summary, the following powerful mechanisms of action of Milk Thistle include:
Antioxidant
Anti-inflammatory
Anti-fibrotic
Enhances liver protein synthesis
Assists liver detoxification function
Stabilizes liver cellular integrity
Promotes regeneration of liver tissue
Additionally, Milk Thistle holds promise in helping to lower elevated blood sugar- which is yet another concern for people with Hemochromatosis.
Supportive research for Milk Thistle in Hemochromatosis
The more I researched, I found several studies showing a ferritin lowering effect along with improved outcome measures in Hemochromatosis and Iron Overload in controlled studies, using Milk Thistle.
Powerful polyphenols found in Milk Thistle include Silymarin and Silybin, and these flavonoid compounds have been shown to benefit liver function and improve health. In particular, Silybin has been investigated in clinical research involving people with Hemochromatosis.
In a study of patients homozygous for the C282Y mutation of Hemochromatosis, Milk Thistle ("silybin") reduced iron absorption from food:
Consumption of silybin with a meal resulted in a reduction in the postprandial increase in serum iron. In conclusion, silybin has the potential to reduce iron absorption, and this deserves further investigation, as silybin could be an adjunct in the treatment of haemochromatosis. – Eur J Clin Nutr. 2010 Oct;64(10):1239-41. (Reference)
What's more, is I found evidence showing Milk Thistle safe in combination with the iron-chelating medicine Desferrioxamine in individuals with iron overload due to a condition called Beta-Thalassemia.  In fact, Milk Thistle in combination with Desferrioxamine has actually been demonstrated to show greater effectiveness than the iron chelating medicine by itself.
Silymarin, a flavonolignan complex isolated from Silybum marianum, has a strong antioxidant, hepatoprotective, and iron chelating activities.

Results of this study revealed that the combined therapy was well tolerated and more effective than desferrioxamine in reducing serum ferritin level. Significant improvement in liver alkaline phosphatase and glutathione levels of red blood cells was also observed in silymarin-treated beta-thalassemia patients.

This is the first report showing the beneficial effects of silymarin in thalassemia patients and suggests that silymarin in combination with desferrioxamine can be safely and effectively used in the treatment of iron-loaded patients. (Reference)
Furthermore, another exciting benefit is Milk Thistle may help to reduce Ferritin, as shown in this study on patients with chronic hepatitis:
There was a significant decrease in serum ferritin from baseline to end of treatment… 78% of subjects had a decrease in serum ferritin level.

Treatment is associated with reduced body iron stores, especially among patients with advanced fibrosis stage. – J. Clin. Gastroenterol. 2008;42(8):937-944. (Reference)
Researchers consistently find benefits to Milk Thistle, including in cases of iron overload:
Silybum marianum or milk thistle (MT) is the most well-researched plant in the treatment of liver disease. Silymarin acts as an antioxidant by reducing free radical production and lipid peroxidation, has antifibrotic activity and may act as a toxin blockade agent by inhibiting binding of toxins to the hepatocyte cell membrane receptors. Silymarin reduces liver injury caused by iron overload. (Reference)
Seeing clinical research support the benefits known by traditional herbalists is rewarding to me as a Naturopathic Doctor.  It gives me confidence in the safety and efficacy of a remedy.  As a result, I'm sure to include Milk Thistle in my health regimen.
Yes, Milk Thistle Can Benefit in Hemochromatosis
Milk Thistle may be a great complementary supplement to your current therapy for Hemochromatosis, and doesn't seem to be something to avoid for fear of side effects.
How to take Milk Thistle
Studies have shown effectiveness at 140 mg a day, and other research has shown effectiveness with 140 mg three times a day while maintaining a strong safety profile.  Some research has shown Milk Thistle to be safe to use up to 600 mg daily.
There's not enough research on Hemochromatosis and Milk Thistle to know exactly how to dose this herb, but it gives a range to explore based on the research that is available.  
Most experts feel a range of 140 mg to 400 mg daily is ideal.
Safety of Milk Thistle
Milk Thistle is renowned for its safe and gentle nature.  Clinical research studies show very few adverse reactions.  An illustration of the safety profile comes from the Mayo Clinic as their website states about the safety of Milk Thistle:
Milk thistle is likely safe when taken in recommended doses for 4-6 years. Milk thistle is possibly safe when taken in doses greater than recommended, or when taken for more than 4-6 years.
*Note: According to the Mayo Clinic, a typical dose depends on the condition being addressed… however most ranges are between 140 mg and 600 mg daily*
Wow, if something is considered safe 4-6 years or more… you can be sure to trust its safety!
Hemochromatosis Help Supplements
Often times, people with hemochromatosis have told me that there aren't many options out there to help support their health.  Physicians don't typically make suggestions beyond phlebotomy or iron chelating medicines, however many individuals have told me that they have had challenges with those therapies.
At the end of the day, the message I get from people is that they simply want to find answers to restore their health… and that's exactly why I hope to help you.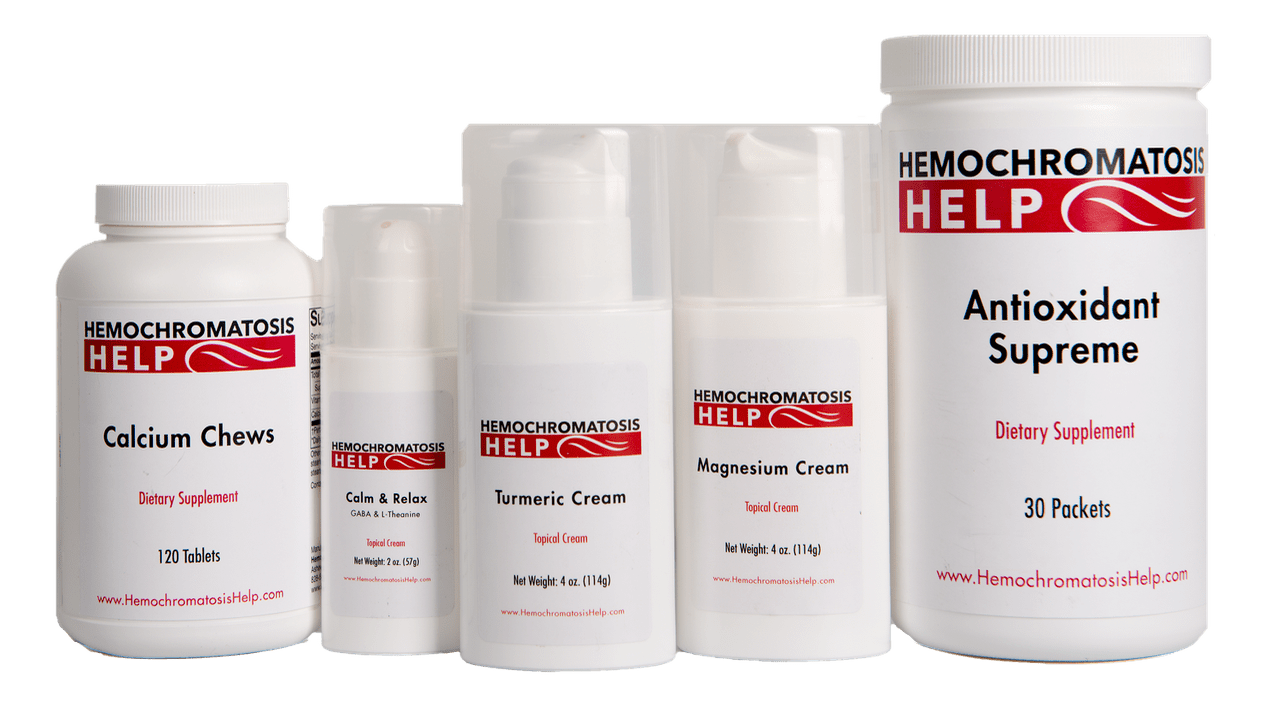 Safety and quality manufacturing are top priorities for Hemochromatosis Help Supplements.  In searching for remedies for hemochromatosis, I choose to only work with professional companies that exemplify the highest quality standards for safety and efficacy… because at the end of the day, that's what is best for you.
Hemochromatosis Help is proud to offer safe, effective, and unique supplements for individuals with hemochromatosis. Handpicked by a Naturopathic Doctor with the condition, you won't find these remedies anywhere else!
Our supplements are for sale and available for shipping both in the USA and Internationally.  You can learn more here: www.MyHemochromatosisHelp.com
* If you have hemochromatosis, you should always be sure to check with your doctor prior to starting any supplement, diet, or exercise routine.  
References:
Pub Med Studies on Milk Thistle, Hemochromatosis:
Hutchinson C, Bomford A, Geissler CA. The Iron-Chelating Potential of Silybin in Patients with Hereditary Haemochromatosis. Eur J Clin Nutr. 2010 Oct;64(10):1239-41. doi: 10.1038/ejcn.2010.136. Epub 2010 Jul 14.

Abenavoli L, Capasso R, Milic N, Capasso F. Milk Thistle in Liver Diseases: Past, Present, Future. Phytother Res. 2010 Oct;24(10):1423-32.

Bares JM, Berger J, Nelson JE, et al. Silybin treatment is associated with reduction in serum ferritin in patients with chronic hepatitis C. J. Clin. Gastroenterol. 2008;42(8):937-944.

Gharagozloo M, Moayedi B, Zakerinia M, et al. Combined therapy of silymarin and desferrioxamine in patients with beta-thalassemia major: a randomized double-blind clinical trial. FundamClinPharmacol. 2009;23(3):359-365.

Pradhan SC, Girish C. Hepatoprotective herbal drug, silymarin from experimental pharmacology to clinical medicine. Indian J Med Res. 2006 Nov;124(5):491-504.

Mulrow C, Lawrence V, Jacobs B, et al. Milk Thistle: Effects on Liver Disease and Cirrhosis and Clinical Adverse Effects: Summary. 2000. In: AHRQ Evidence Report Summaries. Rockville (MD): Agency for Healthcare Research and Quality (US); 1998-2005
Pub Med Studies related to Dr. Whittington's Case Study:
Whittington C. Exacerbation of hemochromatosis by ingestion of milk thistle. Can Fam Physician. 2007;53:1671–3.

Bell, Warren. What's in a Name? Can Fam Physician. 2008 Feb; 54(2): 183–185.

Kidd R. Exacerbation of Hemochromatosis by Ingestion of Milk Thistle. Can Fam Physician. 2008 Feb;54(2):182; author reply 182-3.
Web Links: