Real People, Real Results:
Success Stories with
Hemochromatosis Help
Since 2012, you have written us from around the globe, sharing your stories, your challenges, and your successes.
You've written about how changing your diet and making a commitment to nutrition have led to incredible results and improvements in your health and your quality of life.
Read below for 100s of stories and comments from fellow Hemochromatosis Help readers who have amazed even their doctors with their results!
I just have to share... what a great resource you are. I had my labs today and ferritin level dropped from 850 to 436. This is a huge victory. I've incorporated all the information I have gleaned from your books. Thank you so much for your commitment to this diagnosis which is not well recognized. You and your site are awesome. Truly a great resource for a newly diagnosed hemochromatosis patient.

I've learned so much. Your books are the best I've read on the subject. Diligence to many small changes has paid off. Thank you and your wife for your excellent research and sharing your knowledge.
I regularly refer to your two books and use the Turmeric Cream on a daily basis. The grocery guide is very helpful and easy to read. Your materials are well done! And greatly appreciated, too. Thanks!
Thank you for this information. I have received more valuable information from you and your books than any other source in North America. I recently had a consultation with a dietitian in Texas who claimed experience/knowledge of working with hemochromatosis. I ended up giving her information I have gained from your organization and books.
Thank you both for all the support. My "bible of health" in a binder are your books on the condition and the recipe books. As well, the updated newsletters and the supplements I have ordered. Just wanted you both to know how much I appreciate this knowledgeable flow of communication that supports me daily.
I wanted to take the time to tell you how much I appreciate your book and website. I am 52 yo and was diagnosed with Hemochromatosis about 3 years ago. I have one of the 2 genes like I believe you do and it was very difficult to get what I believed was good advice early on. Your balanced diet approach has been a great relief and help to me and my wife.

I have recently purchased some of your supplements and look forward to starting them. I have always been an active and healthy person and your advice and information will allow me to continue to be that way without being lost and frustrated! I will continue my blood draws as needed but hope to get to a point where 1-2 x annually is all that I need.

Keep up the great work!
Thank you so much for all your helpful information! Up until now I feel like I have been on my own with this genetic disorder. I am so glad I found your website. 🙂
Testimonials for Hemochromatosis Help's Products and Services
DISCLAIMER: Everyone is unique, and each of these stories is one person's opinion or experience. We cannot guarantee that you will have similar results from any of the products or services listed below.  An individual's health may respond in many different ways to dietary and nutritional plans. As always, follow recommendations from your personal health care provider as they know you best!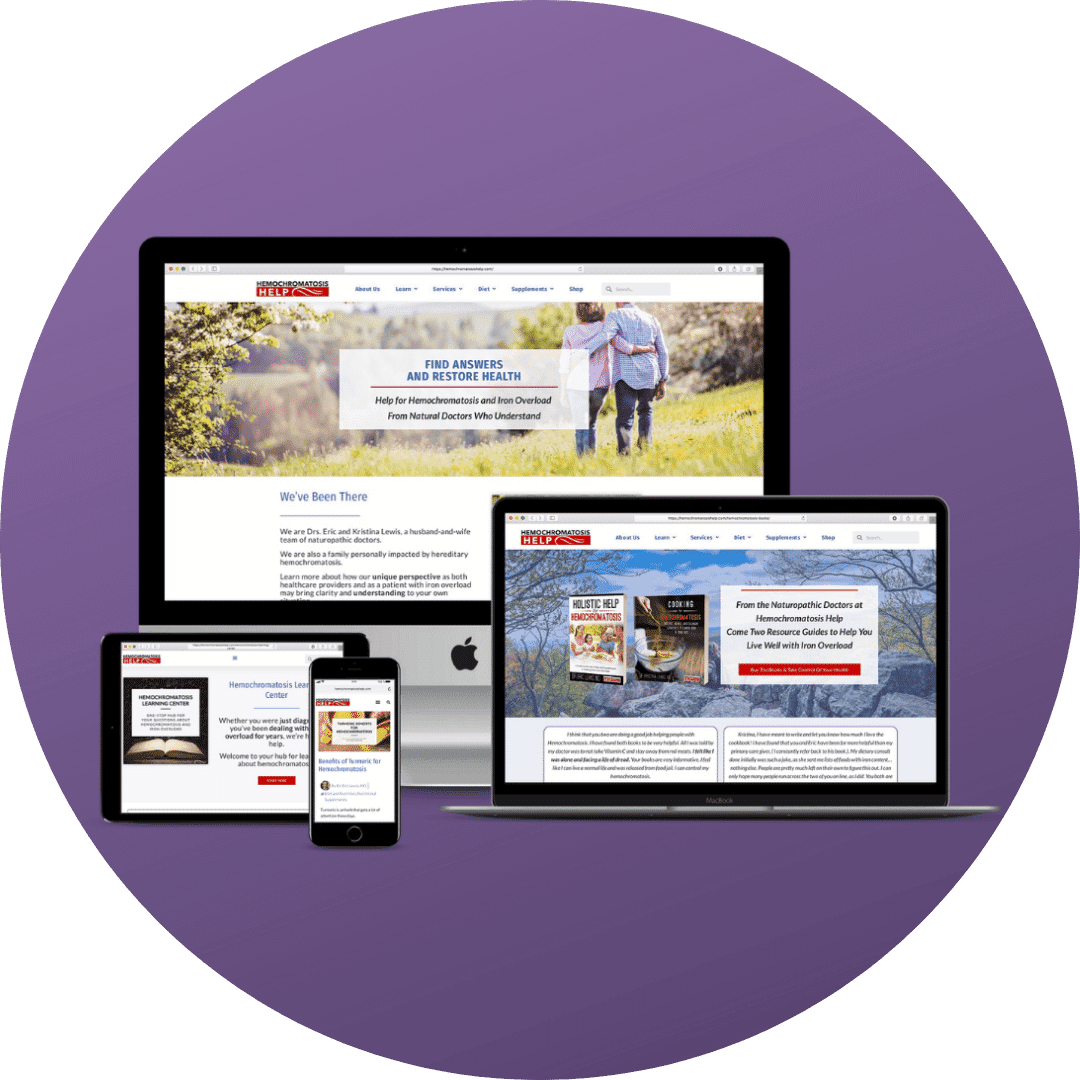 Website and Newsletter Testimonials
Thank you!! I love getting these emails and learning just a little bit more each time. Please keep them coming.
Thank you on behalf of everyone dealing with iron overload for putting together such a great resource of reading material and specific supplements.
I really do appreciate all the information you send me Dr. Lewis. None of my doctors ever tell me any of this stuff which I consider very important, thank you!!!!
Thank you so much for these very helpful newsletters. They are easy to follow and to the point. You offer very important and interesting information in small doses, which is great as many of us newbies can get easily overwhelmed! Keep up the great work!
Great information. Thank you Dr. Eric.
Thank you. I feel like I have gotten more helpful advice from your emails than I have from my specialist, so it is wonderful that you are offering this support. Please thank Dr. Kristina for her continued efforts in taking on such a huge project of the cookbook. I am absolutely sure that she will be helping countless people out there who feel that they are not getting the support that they need to becoming healthy and feeling stronger. Please keep on keeping on!
Thank you for continuing your work with hemochromotosis and being willing to share. Your website is the most in depth and helpful in trying to understand this unusual disease. Since I was diagnosed over 4 years ago I've only known of one other "friend of a friend" who lives across the country from me who has it. This makes your website even more helpful in making connections with others dealing with hemochromotosis. Thanks again for keeping me in the loop.
I can't tell you how grateful I am for the information that you have shared. I am so relieved to know that I am not alone and that I can truly live a healthy, normal life!
As always, fantastic information. Navigating this topic is not easy but I am always so enlightened with your ongoing information. Thank you, thank you... I feel like I'm winning!!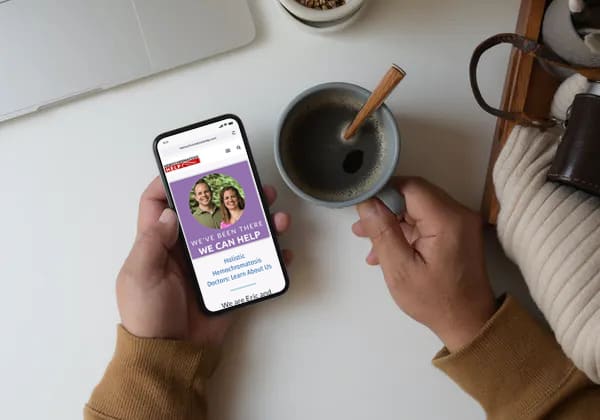 SO Helpful... And thru following your advice and reading a lot I am managing to help myself... I am FOREVER grateful for you both reaching out to help people in this predicament. I feel so relieved as the results of following your advice are becoming evident... Grateful and Appreciative of all help! Bless you guys!
Thank you so much! Your e mails are just great... I really appreciate them so much! Kind regards
Thanks so much to you and Dr. Kristina for posting such interesting and helpful information!! Love my Turmeric Cream and your newsletters!
Just want to say Thank You! Really appreciate your great website... super informative and technical and have already impacted my health as a 62yr old male! I am sharing it with my friends and family! Recently discovered I have heterozygous H63D and to make matters worse I bought into the iron deficiency market back in the 70s and would chug Geritol becuase I was always tired (which knowing what I know now, thanks to you) just made matters worse! No longer sleepy in El Paso!
Hi I just want to say thank you for the emails I am receiving from you. These are appearing to be very helpful to me.
Thanks for all you do, Dr. Eric. I love the way you word your emails. So helpful and very well articulated.
Thank you! I really appreciate your informative newsletters! I find them very helpful. I have the dubious honor of having 2 copies of the C282Y gene, so I really need to stay on top of this condition.
Thanks for your smart advice with frequent doses of humor!
Thanks so much for the vital information you have made available. I am reading through it all now & you are a real breath of hope to me. You are the only person I know who has researched this critical information. You are changing lives with your research & love in what you do.
I am 56 and recently diagnosed. I am an RN but up until my diagnosis I only knew the basics of hemochromatosis. Your site and newsletter have been invaluable to me. It is education in simple terms and it helps me with questions and conversation with my hematologist.

THANK YOU AND KEEP IT COMING!
Your new site is so awesome. I always learn something from you guys. Thank you so much... Thank you for keeping me informed.
What a wonderful website. I have just read the section Hereditary Hemochromatosis. So informative. I am very thankful for your website. I do have both of your books and am very anxious to explore in depth your new website. Thank you for what you are doing in this area.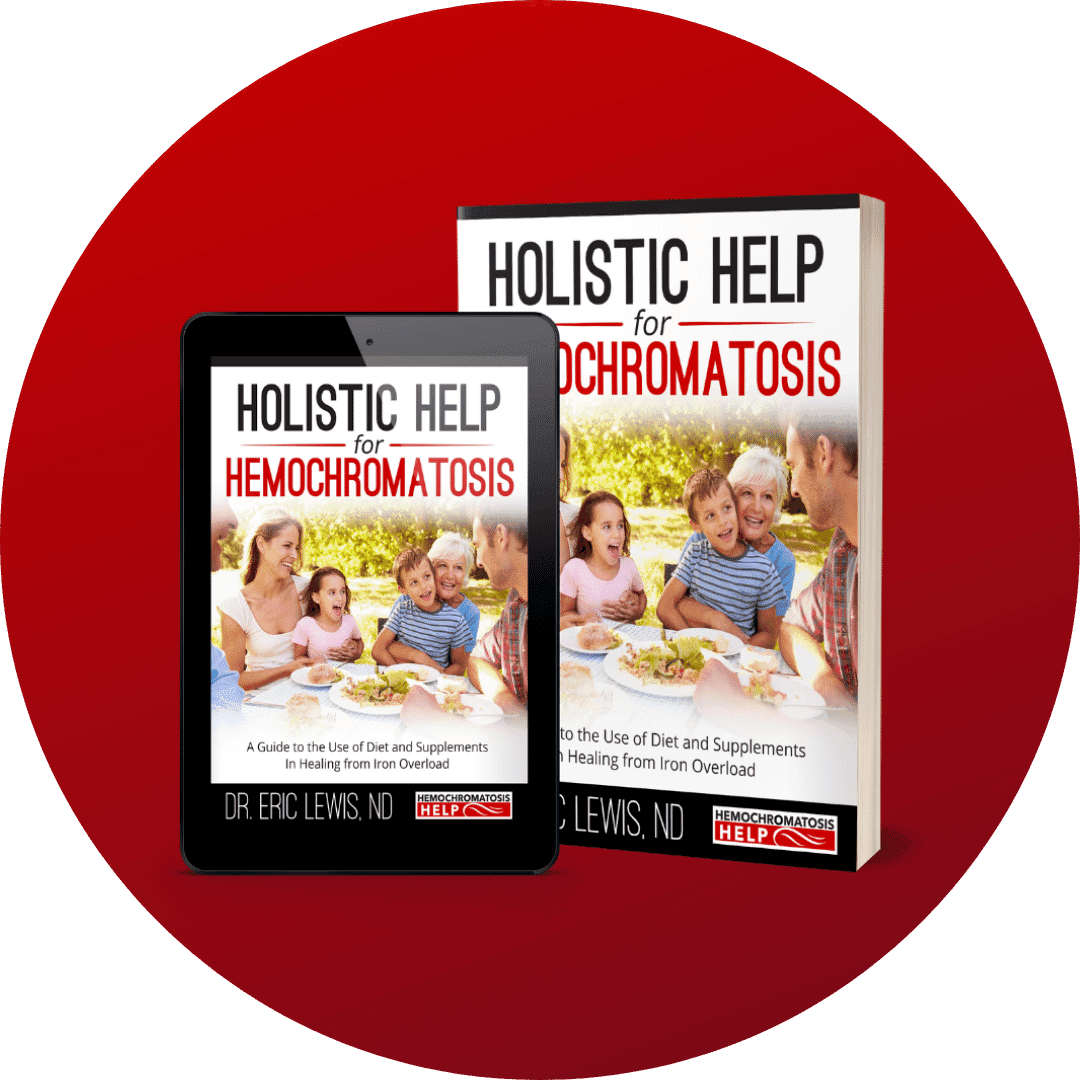 Holistic Health for Hemochromatosis Book Testimonials
I found your book extremely helpful and easy to follow. It's eased the fear of dealing with iron overload and what to do on a daily basis. Your explanation of heme and non heme iron was a great help also. Knowing what blocks the absorption of iron and what increases its absorption is well explained also. Once you get a system down and do meal prep it becomes second nature.
Every doctor that treats iron overload needs to read your book. I could not put it down once I started it. It was the very information I was looking for to help me understand what has been going on with me. I loved it.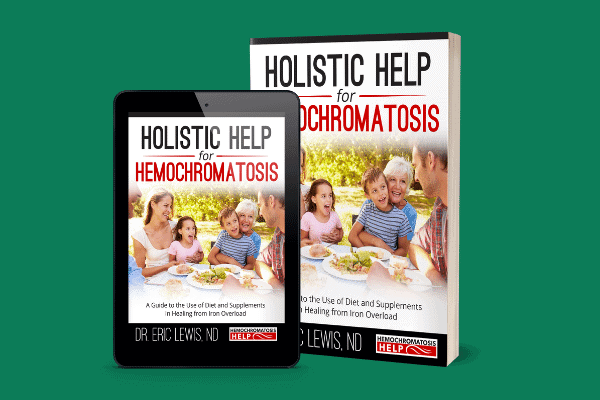 I was diagnosed with Hereditary Hemochromatosis Compound Heterozygous in 2003. I have done extensive research online, from books and any sources that I could find. But I learned more from this little book than any other source in the 15 yrs since my diagnosis. When I was diagnosed, my hematologist told me that changing my diet wouldn't alter the course of my condition, but common sense told me otherwise. That day I eliminated red meat from my diet and started reading labels for iron content. This book has taught me that combining different foods and combining certain supplements can actually have even more effect on my iron absorption.

One of the most jaw dropping pieces of information was that carriers can actually have iron overload. My hematologist told me years ago that carriers will never exhibit symptoms. I have a niece who is a carrier and has had episodes of high Ferritin. Her primary care doc told her she doesn't have hemochromatosis, even though her DNA came back as a carrier with elevated Ferritin levels.

Since most of my family are carriers, this information is a game changer.
I liked that the author had personal experience with Hemochromatosis, the information about common symptoms, possible serious consequences, references about studies done, helpful supplements, dietary suggestions, I guess everything about the book was informative. I especially felt validated about my symptoms that I have been suffering with for so many years.

I was so excited to find out that I had a hereditary disorder that was causing my pain. But, I cannot find an M.D. who understands the implications of Hemochromatosis on health, nor offered any guidelines except the initial blood draws. It has been frustrating for me, so this book has been a God send. I found the book easy to understand, in simple terms that I didn't have to get the dictionary to find out what they meant. Thank you for your work.
Thanks so much for the vital information you have made available. There is so little information here in Australia & you are a real breath of hope to me. Your book takes it to the next level - you are the only person I know who has researched this critical information. You are changing lives with your research & love in what you do.
The best thing about this book is the explanations of the proteins involved in iron absorption and how easy it is to understand. This book has been so helpful for my journey. I was diagnosed with homozygous C282Y Hemachromotosis in September 2017 and apart from being told not to eat red meat and to have regular venesections, I didn't know anything else about it and didn't know where to find any information. This is the first time that I feel like I really understand my diagnosis and I feel more in control, being able to choose what I eat and use natural remedies as well.
I received and have read the new book. As someone who struggles to read a lot in a short space of time I'm amazed at myself for already reading the whole book. It must in part be due to the layout being easy to understand. I feel I have learnt something and so it was worth the purchase thanks for the hard work putting it together.
Dr. Lewis, I have just started reading your book and it is as if you wrote it just for me. I am sure many feel the same way. I am 64 and was just diagnosed one year ago, after one of my sisters got the same diagnosis.

I must say the most upsetting thing with all of this is how little people know about this diagnosis. I too, had never heard of it and began my google journey only to find I was more confused than ever. I read a little of your book then stop to shake my head. I see why this is so under diagnosed for the symptoms can be quite vague and can fall into numerous illness profiles….but why aren't the care providers more aware?

I want to keep this brief for I could go on and on. I am eager to get back to your book and I find I am so excited to have discovered you among the internet chaos. You and your wife are providing a valuable service to so many people, but so many more need to receive this information.
I liked the way you wrote it for everyone to understand. The presentation of "introduction", "role", and "take away" was perfect! I now have a viable plan to keep my iron at bay (once I get it down to normal levels) and will start immediately eating this way. I'm so glad to know about the combining of foods. Just a big THANK YOU for publishing this. I also bought the cookbook but haven't used it yet. I will start now. 🙂
Dr Lewis: My husband has Thalessemia which went undiagnosed until age 73, at which time his SF was 2659! Thanks to your book we have dropped it down to 876 in the past several months. He still gets ongoing phlebotomies but your meal and diet suggestions have significantly impacted his progress.
I have found this book very easy to read and extremely helpful. I couldn't put the book down. No sections were confusing. My doctor didn't make any suggestions about diet when I was diagnosed so it was a relief to come across Dr. Eric's book.
Just received your book. So far it's everything we needed to hear!
I really liked the nutritional information about how to block iron at mealtime. I also like the information about supplements, especially Tumeric, which I am now taking daily.
Your book was definitely an educational textbook. I feel that I have become a nutritionist and certainly learned a lot. This knowledge has me making smarter decisions.
This will help me make proper choices on which food to eat together, and which to keep separate. I find many more answers in this book about the characteristics of foods that are so important and so hard to find information about. Thank you.
Loved the book! Easy to read and understand which was a huge plus. Already doing so many of the ideas. I felt it was easy to understand and follow. Thank you! - Anonymous
WHAT A BLESSING!! THANK YOU for writing and researching! I am feeling less anxious now about having this.
The book made me confident to live a normal life without fear of all the restriction on my diet.
  I found the book to be very informative and helpful. I began having phlebotomies in 2001 beginning with every other week. Now it is about 3-4 times a year. My problem is the saturation level is always high but the ferritin remains on the low side so my hematologist is having a difficult time trying to regulate me without becoming too low in iron. Your book has given my good insight on how to better control iron absorption by including calcium or green tea in my meals. I was especially surprised with the section on beta carotene. I eat sweet potatoes very often as well as butternut squash and carrots. Now I am rethinking that practice. I eat a lot of chicken and fish and meat maybe 1-2 times a week. The sections on dietary supplements was very helpful. I am 75 years old and arthritis is becoming a difficult problem for me. I now drink green tea regularly. I have begun taking magnesium as I was having terrible feet and leg cramps as well as restless legs and that has made a profound difference. This was a regular nightly occurrence and now surprisingly very rare!!      
I have discovered my iron over load 2 yrs. ago I have a double gene. I never really felt sick but I was loosing my hair but thought it was from getting older at 68. My dr. thought I had low iron and when they did the test it came back high. She sent me to an hematology and oncologist Dr. and found out it was hereditary. All they told me was to be careful not to eat to many things with iron in them but really not much guidance other than that. When I went on line to search for more information I got even more confused. Since I received your book it was an eye opener. Easy to understand and follow. I also purchased all the vitamins and since taking them I feel sooo much better. Thank you for all your help. I have read it twice and will go thru it again. I think the first time you read it it's a little overwhelming but by the second time it starts to make more sense.
We founded and run a homeless center here, and I have been counseling a man who has lived with this condition for his adult life, now in his 50's with failing kidneys and other serious issues... he seems to never have been given clear information even though he received monthly phlebotomy until now when I have been researching and came across your book. It is practical, useful, gives ways to manage the iron and reduce its absorption, very well done and organized and we have been reading it... he is delighted, he has more hope now and direction other than "just don't eat beef"... and I could not be more pleased or happy, he is a special, very intelligent and courageous man. Honestly it is just what we were looking for.
Thank you for writing this book! I would be lost without it. You explained what is best to eat and what is the worse things to eat. I have added green tea to my mornings, afternoon and most evenings. I purchased the correct calcium supplement (I was taking the wrong kind) and purchased Turmeric caps. I am waiting for a final doctor's report on my exact condition, so have taken beef down to once a week and eat mostly chicken and fish, the correct iron binding veggies (from your book) and fruits. I have a month to wait for final results and hoping I get off to a good start on my diet with the help of your book. Again THANK YOU!
After reading your book I have a better understanding of hemochromotosis. I now understand how I can support the health of my body, along with phlebotomy. I am trying the turmeric and like that it is a topical application. I have tried pills and had heartburn from them. I also found it interesting that you only have one gene and have the symptoms of hemochromotosis. I have told my daughters I have it, but was told not to be concerned about them. My testing came back that I had two of the H63D genes. This diagnosis has helped explain some issues I have had in my life. Thanks. I found the book very readable.
Dear Dr. & Dr. Lewis,

Today, I ordered both of your books: Holistic Help for Hemochromatosis, and Cooking for Hemochromatosis, on your website. I found out about you folks & your website & books, etc. & your years of research & work for those with iron disorders, during this month, & I am impressed-by your research, books & work & efforts to help others with iron disorders---& that this started with your discovering that you had an iron disorder. Thank you for making your 2 books available, at such a modest price. I am in the process of learning how best to deal with this condition, what natural supplements I can use, & what adjustments in my diet I can make. One thing that has been a problem for me, is: That though I am with a good Health Org. & Doctor, they are not nearly as well informed as you are-about those with iron disorders, & how to help them. I offer my sincere appreciation & thanks to you & your Org. & hope you will continue your work & helping those with iron disorders toward better health. May God bless you, Respectfully -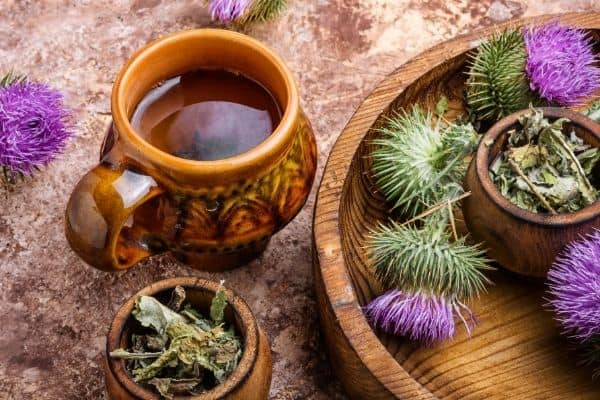 Just finished the book. I thought it was useful to hear from a physician who also has the condition because i feel the advice in the book is better than what the doctors here say. I remember being told no more beef, green veg or alcohol. I was fortunate enough to find out I had the condition at 17 years old. I'm 32 now and the book is the first real platform I've found that I can take to a supplements shop and grocery store and be more careful about what I buy.
I found many helpful tips and can put most of them into practice. I have marked a number of passages for quick reference. So far keeping my ferritin under 50 and thus have a reduced my phlebotomies to one every two months whereas before it was once a month. I found the book easy to read and understand.
Thank you for writing the book and for the website.
I loved your book, it was very informative. I have started implementing some of your advice, and I learned that foods I thought I couldn't have anymore, I can if I eat the foods that will offset the iron levels. My ferritin level went from 470 to 148, my HC went from 42.6 to 35.5, and my HG went from 11.9L to 11.8L, this is all within the time period of July 2016 to Feb 2017. I believe taking the supplements from your website has helped me out, I take your super anti oxidant supplements, use the turmeric cream at night time before bed, use the calcium if I know I'm going to have a cheeseburger (I just can't seem to give these up!!)
The book is very helpful, my doctor did not give me much information and I have struggled for the past 15 years, sometimes doing better but in the last three years I've gone through alot of stress, due to the death of my step-mother, illness and death of my step-father and becoming the primary caregiver for my 91 year old mother. I have began using calcium to help, and you gave me more information regarding the types of iron and how to incorporate both better.
I am so very grateful for your book. I am dairy intolerant and also have MS along with this new diagnosis of Hereditary Hemochromatosis. What to eat and not eat, what supplements to take and not take are all a big maze to me. Your book started my course of trying to figure it all out and set my plan in action. It was easy to read and will become a "go-to" for me. Thank you so much.
I will be implementing as much as possible of the book's recommendations and I also appreciate your candor in discussing things that may or may not be effective. I'm sure that some of the information will help me to find my way through something that seemed very simple at first but has much more complicated ramifications depending on the effect that hemochromatosis has on the body. I'm grateful for the information about the condition since I had no awareness of it before the diagnosis. When the phlebotomies have finally brought the iron levels down to the point where I'm feeling better I will be working on maintaining that and delving into the natural ways you suggest to see what will work for me individually.
The book is very useful, and it has a lot of quality information. It is necessary to read a lot of literature in order to combine the appropriate food in practice. In the book is all important information about the very nature of the illness, the medical approach, the combination of foods as well as the supplements that are very important. The book was written very well and it is very understandable. My congratulations!
It is very helpful since there is not a lot of info on the internet regarding hemochromatosis. I think all topics are covered and there is nothing confusing about the book. It is set out in terms that the everyday person can understand. You don't need to be a doctor to understand it.
The information was given very clearly but very much backed up by scientific research from all over the World. It is already being extremely helpful. I am trying to incorporate these ideas to keep my ferritin levels as low as possible(without getting anaemia). What I find hard to grasp is what should I eat to keep the iron absorption down but the nutrients I need up. It is a bit of a jigsaw. I think the 2 books are complimentary so that people need to read both.
Really love your book. It has been so helpful- so much so that I am ordering a copy for my daughter who has one C282Y gene. Thank you so much for your help. You are a real blessing to me. You have really done a wonderful service to help people.
What I like most about the book is that it is easy to read and it explains things so a lay person can understand. The book has been very helpful in my journey, I have ordered some of the supplements and I plan on implementing some of the dietary suggestions in my daily lifestyle.
Loved the common sense approach. Really good explanations of what is a very confusing subject.
Simple and right to the point. I really thought the book gave me the ability to take control of my iron overload.
Very helpful. I have started Tumeric and milk Thistle and now take fish oil with vit E. I do not eat red meat or chicken but do eat fish. The vitamin C was something I have taken with meals but I will not be doing that now. I found the information very honest. Learnt a lot.
It is easy to understand and implement suggested changes. I think it is pretty thorough and informative.
My son has Hemochromatosis I ordered for him- it helped me to better understand his condition. I pray it will help him understand it and work to get it under control. Thanks for sharing your knowledge with others.
I bought your book when it first came out and it is excellent. It is full of great information and acts as my go to for all questions I have about Hemochromatosis. I appreciate your help and input and all you do to promote natural treatment aids for hemochromatosis.
27 pages of bibliographies really enhanced my confidence in the contents... I have memorized the do's and don'ts to be incorporated into my diet and have started to implement them. A very "readable" book. Nothing to change... Thank You for the book!!
It is VERY well written. You can understand it scientifically but at the same time, it is not written 'above your head'. In the future, I will highly suggest this book to newbies.
This book increased my awareness of the oxidative stress that iron overload causes and the nutritional and supplemental strategies to use. The information is presented clearly.
Very informative. Helped me to understand which foods are my friend I found it an easy read for the layman but will read again to take it all in. It gives the basic tools for food combining but guess I need to read the cookery book to get a more in depth understanding. It's good to know that I don't need to avoid foods which at first glance would appear to be a no no, once I get to grips with food combining.
This book is entirely up-to-date. It is written in a very user-friendly authorative way: lots of results of the latest studies; effective and relative info for those who have read much about HHC, and for those who have not, and are very new to the malady; and written in a positive manner, with humour and hope - a unique and needed reference tool. I refer to it often to refresh. This is a well-crafted text.
This book was really well written for the lay person and even though I have worked in Biochemistry as a Lab Tech I really got a huge amount from this book. Every aspect very well explained I think you covered most aspects though I would like to know if it was possible to ascertain just how much damage has been done as I've pretty crook for a couple of years and Iron levels are 1296. - Kate, Australia
Your book is exceptional. It is full of helpful information on how to implement food in trying to control iron overload and l have made changes to my diet accordingly. I find myself reading the book often and each time l read it l find l pick up more information. So all in all l am so very pleased a book has finally been written which can actually be so helpful with doing what we do every day which is eating!!!!
I ordered this book for myself and my husband, who has hemochromatosis. Due to a myriad of medical info on this condition, and specialists giving us a confusing array of information, we were going crazy trying to find help. The initial pages of your book took this condition and made it most understandable! Fortunately I am married to a man who is willing to change his diet for his own good. The dietary choices are excellent, so the idea of starving on a hemochromatosis dietary plan is non-existent. Thank you for your naturopathic education, and your focus on this condition. The sharing of this knowledge really helps us consumers help loved ones to continue to enjoy life in spite of health conditions. Actually, this book was PERFECT--for us!!!!
What I like best about this book was that it was easy to read and understand for the lay person. I think this book will be helpful for me as a reference guide to turn too, and also for people in my life that would like to understand a bit more about this. I have been pretty aware of nutrition, and have been a life long vegetarian. However, I have now had to approach my nutrition differently because of this iron overload condition. I know the end result will be me feeling better so it is worth any efforts I have to make! I feel that this book had a really good holistic overview of hemochromatosis and plenty of info backed up by research and data. Thank you for taking the time to write this. As someone newly diagnosed this came out at the perfect time. I am grateful to have found your site!
A special thank you for the research you have done and for putting the information you have gleaned together into book form – an absolutely useful tool for all people diagnosed with genetic hemochromatosis.

I have always followed a natural health way of living and since my diagnosis I've collated much information from various sources, but to have it all together in one book will now make it so much easier for quick reference when needed.

Again, thank you.
The book is very comprehensive, detailed, organized, well-researched and easy to understand. Technical and scientific terms were explained in simple terms so that someone without a medical background could understand the concepts. I plan to read the book again and implement any ideas that I may have missed during the first reading.

The Take-Home Messages were helpful by condensing information into quick to read and easy to understand terms. The Bibliography was very thorough and detailed. It gives the reader assurance that the information contained in the book is well-researched.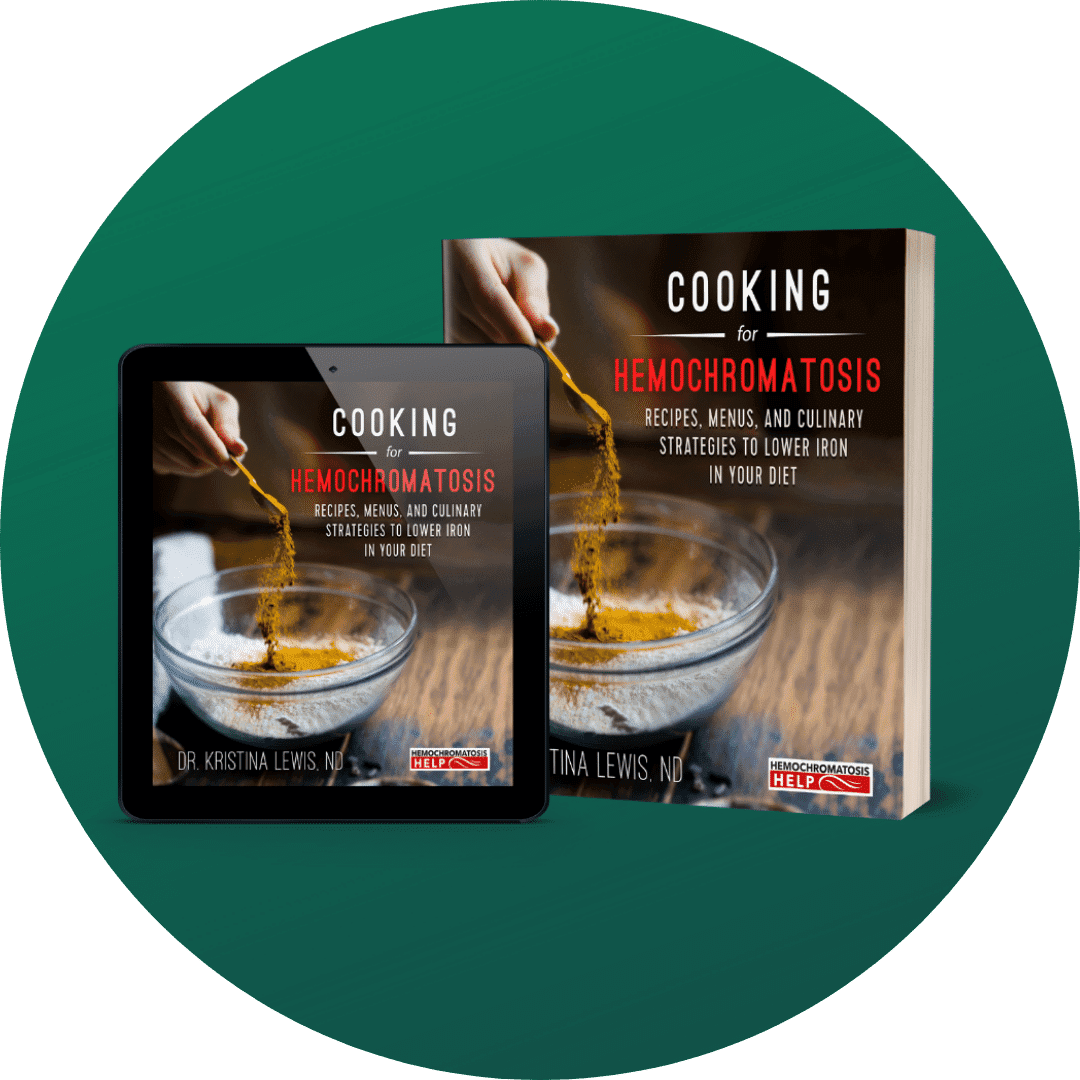 Cooking for Hemochromatosis Book Testimonials
Dr. Kristina, I have meant to write and let you know how much I love the cookbook!I find they are recipes I would use and the tables are a bonus. It also helps with other home recipes and meal plans to lead you on the right path with greater ease. I have found that you and Dr. Eric have been far more helpful than my primary care giver, ( I constantly refer back to his book.). My dietary consult done initially was such a joke, as she sent me lists of foods with iron content…nothing else. People are pretty much left on their own to figure this out. I can only hope many people run across the two of you online, as I did. You both are a true God send. Thanks for all you do!
I have found this book so helpful. It has been a great resource for me. I have changed a lot of my food pairings based on the information in the book. I feel I am better at reading labels in the store and has helped me make better choices. I really enjoyed the meatballs I thought they were easy to make and my husband even liked them 😊 My husband and I enjoy cooking and I wanted to know more about iron consumption and how to make changes with our favorite recipes and the book has definitely done that. Oh the steak recipe was amazing I really enjoyed that and did not feel guilty eating it 😊😊 The book sits on my kitchen counter and I use it every day, it has post it notes throughout. Definitely a great purchase!
Myth busting with regards to food combinations! I can eat eggs & banana! When diagnosed was told that I shouldn't eat certain foods together, so have eaten bland diet. The best and worst foods to eat for Hemo. Your recipes are invaluable and detailed giving understanding of food combinations to inhibit iron. Grab and go snacks, Roasted Broccoli and cauliflower, Turmeric yogurt, beautiful berry bars, purple iced tea. All I've tried are nutritional and tasty. A good book written with understanding and love. Thank you for enhancing my meal times!
I really liked how the book has the different food groups separated and gives the specifics and its impact on people with iron overload. I have really watched those foods when I am eating high iron meals. I loved so many of the recipes and have made several of them a few times. Cauliflower crust pizza with the low iron pesto are my favs at the moment. Recipes were easy to follow.
Excellent cookbook, the best one out there. I have learned so much about what is good and what is bad and the foods that should not be combined and why. I like how I can take a recipe and modify a ingredient or two and you have a different meal.
It is easy to understand and implement suggested changes. I think it is pretty thorough and informative. Yes, helpful to plan out combinations of foods to manage iron absorption. Oatmeal cookie recipe - cookies are so good and it was good to find one that is beneficial with hemochromatosis. The recipes I tried were clear and easy to follow. Love the explanations and the meal planning pages.
I was recently diagnosed with HH. I have only read bits and pieces from your new cook book, but already like how you explain the iron enhancers in your diet, as well as the iron blockers. Its been challenging for me to analyze my diet for iron intake and your book simplifies it. I find myself referring to Part 1: the Essentials section regularly for reminders of do's and dont's. I have not used the recipes yet, but I read through many of them. The recipes look interesting and appetizing, instructions easy to understand, options offered when you don't like an ingredient very helpful. I'm taking your book on vacation with me this week to try some of your recipes with my sister, who is the real cook. As it turns out, once I was diagnosed, my siblings were tested and three out of four of us also diagnosed. I have sent copies of this to them for reference as well. So, thank you for writing it. It will be a staple in my kitchen.
I appreciate the wide variety of interesting but accessible recipes... Hemochromatosis doesn't have to mean boring meals! Nice job! One of the things about your recipes is that I'm stretching my cooking experience into new territory, which is a good thing. Preparing this recipe was an adventure appealing to multiple senses. The recipes are very easy to follow. I just now enjoyed a bowl of a lovely concoction and it was very tasty. Thanks for all of your hard work on the recipe book! The book is truly wondrous! Now I'm looking forward to spending much more time reading and cooking. What an adventure! Very, very good job on the book and on all of the help both of you provide for hemochromatosis patients. Thank you.
The recipes I have tried are very tasty, simple, healthy and varied, which is very important. All three dishes are very delicious, everything is perfect, congratulations. I've learned a lot from you and your husband about hereditary hemochromatosis, I would like to say that you have been very positive to me…Your website is very good and useful and I think you are doing a good job. People with Hemachromatosis must be aware that health and life are in their hands. Always be prepared to learn and apply good things in practice. Then the result comes.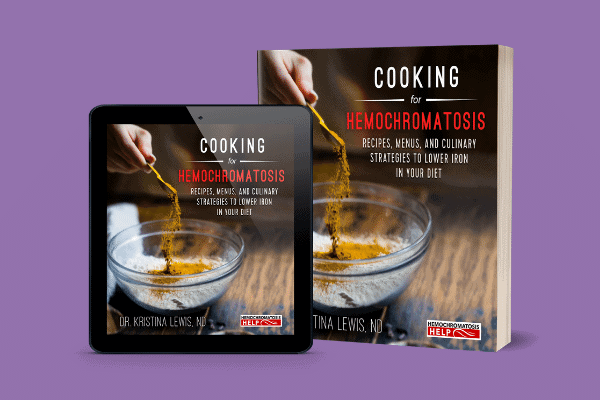 This book has proved to be extremely helpful. My wife suffers from hemochromatosis and was not doing the best as I had no idea of the severity of this condition this book gives us so many tricks and so much of an understanding of what she can and can't have and even things she can have in small doses. This is an absolute essential in our kitchen now , Thanks Guys !!!!! Fav recipe is the chicken and mushroom pie and the ham and mushroom quiche as they are delicious . I have read the book front to back and am in the process of implementing my findings in the kitchen it has also helped substantially with weight loss! This should be taught to all up and coming chefs all around the world.
The recipe was delicious…! I will definitely make this again. Easy to follow directions and everything was great. It looked pretty and tasted super…I made the crispy pork chops and they were easy to make and were tender, moist and delicious. I made the salad for Christmas Eve dinner--very festive! My son-in-law loved it and it was still crisp the next day. I loved the dressing and will use it for other salads in the future.
I bought the book as a gift for someone else. I was happy to be able to give a book of recipes that could give more variety to the daily diet. Before I gave the cookbook as a gift I prepared dinner for the receiver with some of the recipes. Everyone loved the Irish Soda Bread. It was simple to make. The Apple, Beet, and Cheese Salad was also good. Dessert was the Beautiful Berry Bars. They were easy to make and scrumptious. Those were the only recipes I tried before giving the cookbook as a gift. The directions were easy to follow and ingredients easy to find with the exception of the ground star anise. If I were the person with the iron overload problem I would have read the cookbook from cover to cover, instead of just glancing at a few recipes to make before gifting the cookbook. The cookbook appears to have a lot of useful information and a good range of recipes.
Just purchased the cookbook. Very impressed with the book. Clear and concise. Easy to read.
I loved this recipe. The pie turned out fantastic and had a great taste. I will definitely be making this again.
It simplified my daily struggle to plan meals that otherwise would be guess work.
I think the book is laid out very well and I like all the planning that went into it. I love the way it is explained why these recipes work. Thank you for keeping us informed on iron overload and for presenting such a lovely book!
Very easy for the lay person to understand. Already used several of the recipes, delicious. Had no idea how you hard boiled your eggs could make such a difference. Found it very easy to read and understand.
This will help me make proper choices on which food to eat together, and which to keep separate. I find many more answers in this book about the characteristics of foods that are so important and so hard to find information about. Thank you.
I love the breakdown of nutrients in the recipes you provide.
I loved all your explanations. I want to learn all I can about eating real food again. The pictures are great.
I really thought the book gave me the ability to take control of my iron overload. Simple and right to the point. I liked the "why the recipes work". It helps train my way of thinking so that I can understand the process of putting certain foods together. The recipes are more down to earth than a lot of other cookbooks. I do not want gourmet recipes as I don't cook that way. I like down to earth normal recipes. I don't usually use a recipe while cooking, I am more of a "that sounds good" cook. I will use the cookbook to get use to combining foods that are good for me and then go off on my own with a better understanding. I have mostly read through the recipes and have tried a couple. I can't at this point pick out a favorite. We did try the turkey burgers with zucchini and really like them. We found the avocado and eggs very interesting but would not have them very often. The non-cooked marinara sauce was good. I love tomatoes and understanding the difference between cooked and non cooked was good to know. I think that you two are doing a good job helping people with Hemochromatosis I have found both books to be very helpful. All I was told by my doctor was to not take Vitamin C and stay away from red meats. I felt like I was alone and facing a life of dread. Your books are very informative. I feel like I can live a normal life and was released from food jail. I can control my hemochromatosis. - Anon.
It was easy to read and thank goodness it gave me and my husband a list of what foods to avoid or limit and what foods he could have. The explanation of why the recipe was good for hemochromatosis was very helpful. The oatmeal cookies and berry bars - dessert is our favorite. We are still experimenting with the entrees. I am so glad I purchased the cookbook. It makes shopping a lot easier now that we don't have to play guessing games anymore. Thank you Dr. Lewis!
Very informative and easy to understand. I especially liked the notes that explained how certain foods function for or against each other. I have not tried any of the recipes yet but am looking forward to making the cauliflower pizza plus the garlic and oil spaghetti. Sounds yummy! Love that you included so many ethnic menus! Your notes are very helpful as well as your reasons why each recipe works for Hemochromatosis. Easy to read and understand!
I like the tabulations very much. At a glance I can see the type of foodstuff and its composition. A lot of research must have been involved in their compilation. Even though I live in the southern hemisphere I can locate the food description that I am familiar with. Thank you for the metrication. Thank you for sharing all your research! All unfamiliar terms (to myself) were invariably explained/clarified.
Your book, alongside your husband's book have given me a huge amount of insight into the complex world of food science. I am using the information to help me decide what to eat and when to eat it. Luckily I love eggs but was upset to find out how much iron there is in duck on our visit to France this year. Luckily because of your book I now know that the French don't fortify flour. Also luckily some part baked French products come in to UK and are allowed to be sold in supermarkets. The food regs for fortification in different countries was very useful.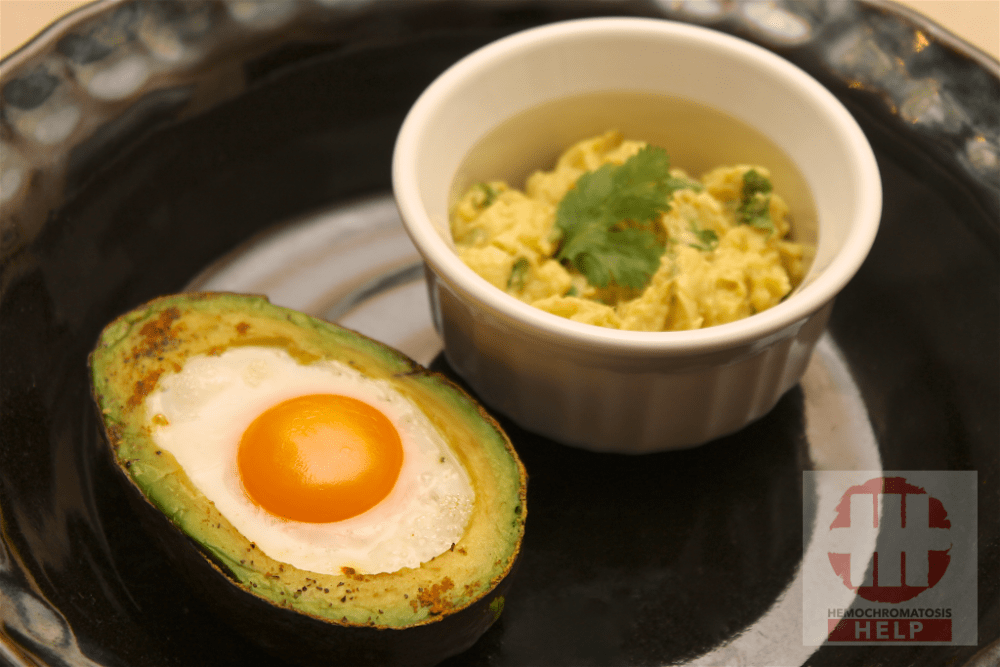 Very well researched and written! The best recipe book I have found and written by someone with firsthand experience! Really appreciate the explanations of why the different ingredients work together to inhibit iron absorption. This helps educate the reader to have a different mindset about the overall diet. I have incorporated many of the recipes into my diet. Very pleased overall! Probably one of the simplest recipes in the book is the frozen oatmeal cakes which has sure made putting together a quick breakfast easy! I just never thought about freezing oatmeal before. Also like the salmon patties and everything else I have tried! Everything so far has worked well.
I just want to reiterate how inspired I am by your approach
to this book.
It's abundantly clear on every page that this is a labor of love for your readers and that you've put so much time and effort into making this a helpful text for a very diverse audience.
Gained an understanding of the condition and how to deal with it, factual but easy to read. Fluently written, very helpful. Detailed explanation of the various categories of foods and example recipes that can be adapted to recipes more typical of what we eat in this country (Australia). Still working through it, baking is good, as are breakfasts. Great to have ingredients and temperatures in both measurements for international readers.
It is written in simple and easy to understand language with a sense of humor. The listing in summary of food group helps a lot. I like the variety of recipe especially oriental type of food. Didn't have time to try too much, I use it as a guide to what I can eat similar to find similar low iron food recipe. I like this book and use it as a reference since there is a lot of useful information.
I got my cookbook yesterday. I love it. It's really good, and I am already using it. I like all the information on Hemochromatosis and how the foods all work together and why, especially the little explanation on why the recipes work for us. I can see how this book will teach me to make up my own recipes to fit the foods we like.
The other Hemochromatosis cookbook I bought does little of this and the recipes are not the types of food we eat. I was sorry I bought this other cookbook as I will never really use it. Your cookbook is very useful and I thank you for writing it. You did a great job.
Just received book, finding it difficult to put down! 👍👍 I have been supremely surprised with the effect of being cognizant of the "Six Substances" when planning my whole food plant based meals. I am feeling very optimistic and enjoying feeling good.
Thank you, Dr. Kristina Lewis!!
I think the book is laid out very well and I like all the planning that went into it. I love the way it is explained why these recipes work. Thank you for keeping us informed on iron overload and for presenting such a lovely book!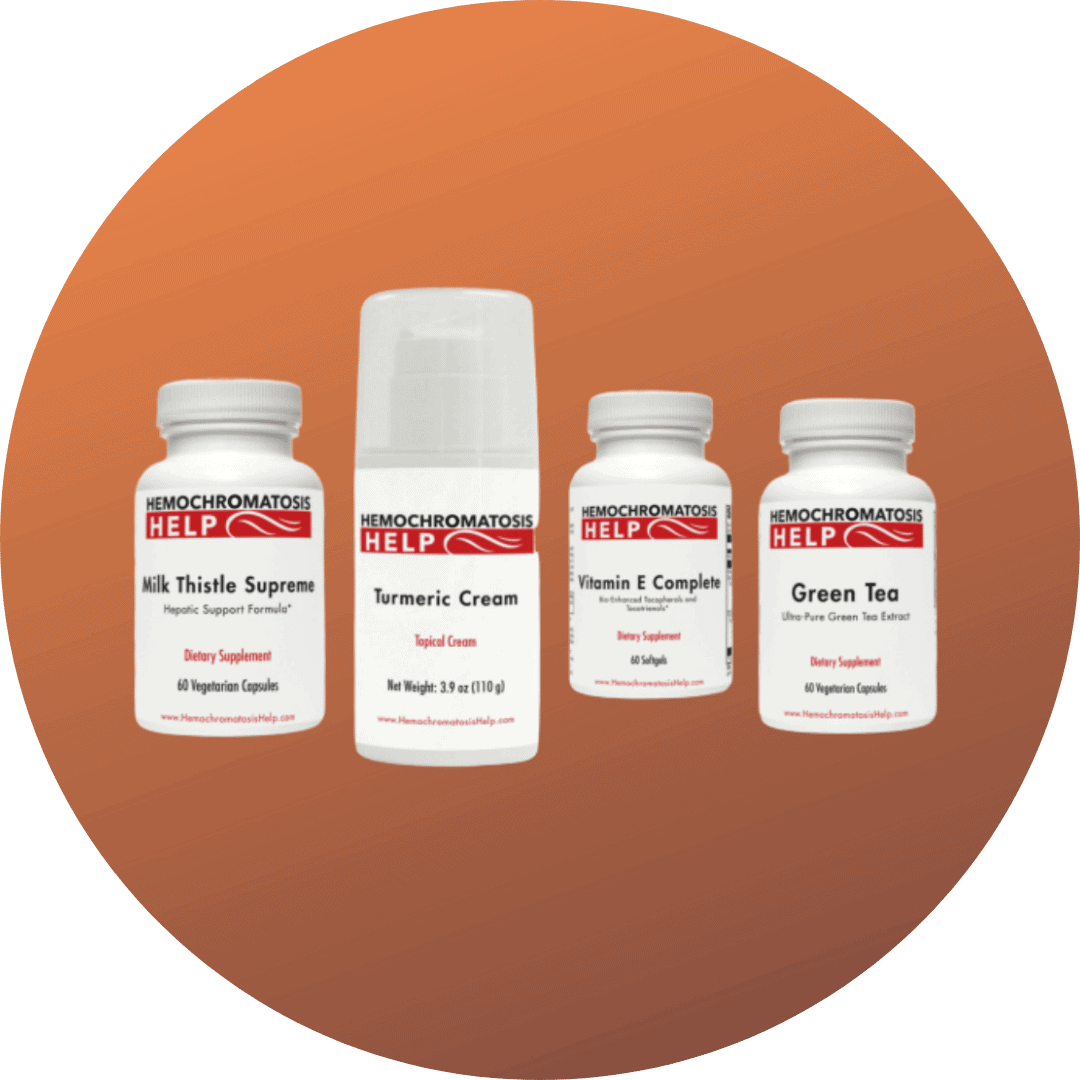 Hemochromatosis Help Nutritional Supplements Testimonials
I'm quite confident that I have materially benefited from your book, products and advice - so thank you very much! Your book was well written, easy to read and chock full of practical and useful advice and guidance. After reading your book, I asked my doctor what he knew about the iron chelation benefits of turmeric and he was not aware of this connection and took out his laptop and accessed some scientific papers which quite surprised him. He then endorsed the use of calcium and turmeric. I think the blocking effects of the calcium and chelating effects of the turmeric have greatly helped my iron management. Thanks again and please keep up your valuable work!
I wanted to let you know my status. I was diagnosed in October of 2018 with a ferritin level of 2800. With every 2 week phlebotomies starting in January 2019 my ferritin is now 125😊 I have no organ damage! I also have done everything you suggested in your book and have taken all of your supplements. So thank you again for being my one stop shop on HH. I also printed and laminated the summaries of the best and worse foods and keep a set in my purse and one at home.
My Ferritin Level Is Way Down

I just thought I'd let you know my blood test results. My ferritin level was way down but my transferrin saturation was 48. Normally if the ferritin and the saturation are up to around 50 or over I would have to have a venous section ( that's what they call it in Australia) The doctor felt that because my ferritin was way down that she wanted me to not worry about the VS and have another blood test in 3 months. I told her about the Turmeric Cream and she just said that it could be helping so just keep it up. (which I would have done anyway) Anyway, just thought you would be interested to know. All the best and keep up the good work!! 🙂
More Convenient Than a Capsule

I am thrilled that you have the curcumin in a cream form. Many times it is not convenient to take it in capsule form. It's just so nice to be able to put the cream on and not have to worry about it any more – such an easy way to help lower high ferritin. I now can look at menus and not be scared of ordering something other than vegetarian.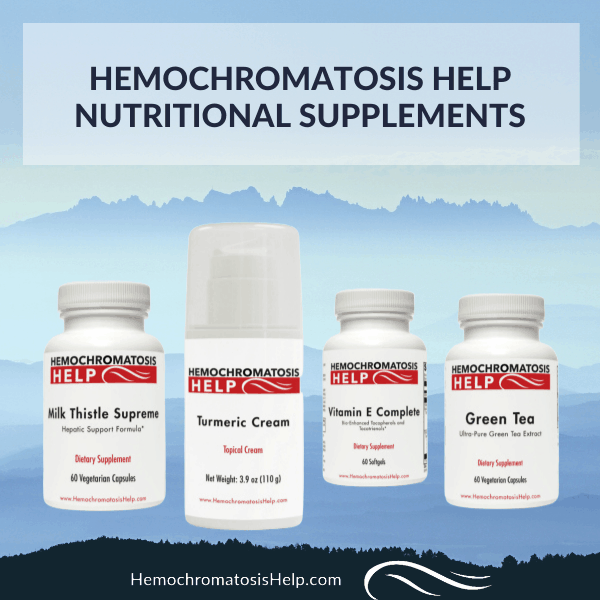 I just wanted to say thank you for doing the research, formulating your own supplements, and sharing with everyone. I was diagnosed in July with hereditary hemochromatosis with a ferritin level of 1230. After only 4 phlebotomies I am down to 282. So we know it wasn't just the phlebotomies. I have been taking your supplements and eating the right way to not absorb the iron from foods since then. I am so happy that I found your website when I did. if I only went by what my doctor told me, I would still be gaining rather than losing ferritin. He doesn't even know that turmeric chelates iron out of the body. I feel I can back off of the turmeric a little now, but still make sure I have calcium whenever I have an animal protein meal, and I will still take the other supplements. Anyway, thank you for all your hard work and research.
I am getting ready to purchase your cookbook, I love your site, I have learned so much and taking the antioxidant bundle helped tremendously! Thank you, and your wife!! 😊
Managing my Condition Reasonably Well Without Too Much Deprivation

I have just ordered my next batch of turmeric cream for my genetic haemochromatosis from you. I live in the UK.

I thought you might like to hear that ever since I bought and read both your books about April 2019 I have managed to avoid having to have venesections. I have been using your cream and also take milk thistle capsules amongst other things. I have an issue with having blood taken, a phobia of needles and also my veins move while the nurse is trying to take blood so although the particular nurse I try to see is very good none of the others have managed it well. I was desperate not to have blood taken more than needed.

The last blood test I had gave my ferritin as 19.3 and I had to come home and have a steak as they didn't want it below 20. I think because we had to cancel some holidays and not eating out with Covid being around I was doing more cooking. I have been having fish, pork and chicken products but quite a lot of eggs and vegetarian dishes but always bearing in mind your advice most of the time. We are of course lucky in UK in that our local French breads etc are not fortified (I have downloaded a list of our local supermarket's products with the details). I brought some French flour back on a visit to France on holiday as well.

I have to say your advice has enabled me to manage my condition reasonably well without too much deprivation of foods that I like though it would be nice to have to liver pate or our black pudding once in a while!

Thank you very much
In June 2015, my ferritin level was 1566 ng/ml. Iron, TIBC and saturation were normal. I took milk thistle and curcumin for a month and my ferritin level dropped to 563 ng/ml. My ferritin level dropped to 255 ng/ml in February 2016 after I had a phlebotomy (venesection). The Australian Red Cross accepts blood donations until people turn 70 years of age. I'll be 69 soon. Therefore, I will rely on nutritional supplements to reduce ferritin levels.
Taking Things Into My Own Hands

Dear Dr. Eric, I have suffered from what I would describe as restless legs starting at about 3pm and carrying on the entire night making sleep difficult. I have followed the diet plus supplements for one month and have had no restless legs for 5 nights!! Like many (post menopausal) women when diagnosed with hemochromatosis I was told to avoid iron rich foods, donate blood and do yoga!I decided to take things into my own hands and to follow the diet and supplement protocol and so far I feel much better. Thank you!
I was diagnosed with hemochromatosis around 25 years ago. I have had numerous phlebotomies over the years trying to keep my ferritin levels at acceptable levels. Until I read your book about 2 months ago, I had not really considered my diet overall but only read the iron content in foods, nor was I taking any supplements to address this issue.

Since reading your book I have given more consideration to my meals and began to take the supplements that you recommended. For the past 1 1/2 months I have been taking Calcium, Milk Thistle, Green Tea Extract, Turmeric, along with my multi-vitamin that has no iron.

Today I went for CBC along with Ferritin analysis. For the first time in 25 years my ferritin dropped without a phlebotomy. Ferritin levels- August 2017: 379; March 8, 2018: 550; August 1, 2018: 256.

I think I am a believer now! Thank you so much!
Ferritin Down Almost 300 Points in 2 Months

My husband has been applying just one pump per day of the Hemochromatosis Help Turmeric Cream and his ferritin dropped from 862 to 572 in two months! We were floored when the test results arrived. Also, his liver is no longer swollen on palpation. We are so grateful to you, and will be delighted if others experience similar good results.
Serum Ferritin Down Almost 15% in Only 4 Weeks

Just wanted to let you know about my recent experience with two of your products, namely the Magnesium and Turmeric lotions. Long story short, I had some baseline and follow up iron studies down before and after using these two products daily and have reduced my serum ferritin from 243 to 209 in less than 4 weeks. My doctor is impressed. Usually I would need to have donated blood several times to achieve this result. I have also being chewing Calcium whenever I eat red meat and consuming several cups of green tea a day. It is clearly working, thanks to your products and advice, and may offer me a longer term solution to having phlebotomy.
Better Sleep, Sense of Well-Being, and Overall Good Health

I have been faithful with my use of your fantastic TURMERIC CREAM and I swear my overall good health and sense of well-being are a direct result! I apply the cream at night and my sleep seems to be so much improved. I no longer awake in the early a.m. hours. There is a very pronounced sense of calm that I have learned to expect from the Turmeric Cream. In general, I simply feel better and face each day with a stronger resolve to achieve maximum health and enjoyment.
Turmeric Cream Is Wonderful

Your turmeric cream is wonderful! In the last 6 weeks since I started taking it, my ferritin level is down 21 points. Also, I can get to sleep so much better now... it's really helpful!
I am convinced that the reduction of my ferritin levels is greatly a result of consistently applying the cream as well as following the diet recommendations that help me pair iron containing foods with other foods which offset the iron absorption level. My primary care physician was so pleased with the numbers that she asked me to send her the name of your two books so that she can review them and possibly share the information with her other hemochromatosis patients! I had started on daily usage of the turmeric cream in March and feel it and your food pairing suggestions impacted my current reading. I'll keep using the cream and monitoring my progress. So far, no additional phlebotomies. Liking that!!
Just wanted to tell you that I began using the magnesium cream and the calming creamer for my hemochromatosis but have found that it's a perfect aid! The only thing I've found that gives me any relief!!! Thanks for these products!
Wow this stuff really works!

I just wanted to tell my story. I have hereditary hemochromatosis. My ferritin levels were over 2000. I tried blood letting and over 8 months I got the number down to about 200. But the blood letting was terrible. So I started taking your tumeric supplement, and gave up on the blood letting. Less than a year later the ferritin level was at 75 ! This stuff is amazing ! Thank you for what you do, you've helped me a lot.
Diet & Supplement Synergy

I believe that along with a healthy diet, your supplements have kept my Ferritin level below where my Hematologist wants it to be. I have not needed a therapeutic phlebotomy in several months!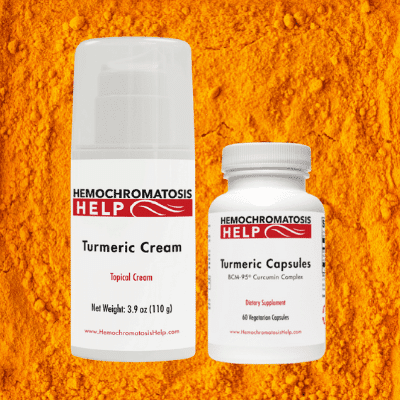 From Skeptic to Believer

I wanted to share that I had my son try your turmeric lotion and, I must admit I was skeptical, it actually worked! His ferritin dropped from 901 to 683 in one month.
Good news - success story! Since taking "Hemochromatosis Help Turmeric Cream" daily from 29/6/19 my ferritin levels have dropped from '198' to a '80'. Refer to table below. I am so happy and relieved. Thank you to you and your wife for all your practical helpful advice, products and detailed information provided on your website and books. (I have also been food combining as per your book).
Additional Resources and Information