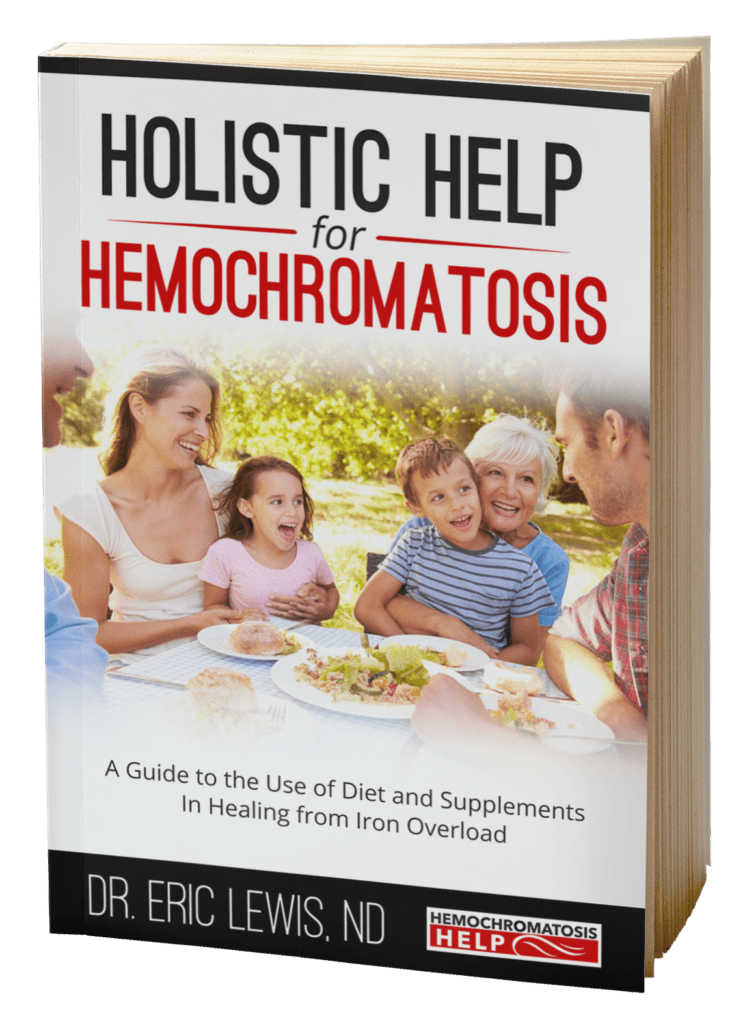 The Hemochromatosis Help Diet Book
Holistic Help for Hemochromatosis
A Guide to the Use of Diet and Supplements in Healing from Iron Overload
By: Dr. Eric Lewis, ND
An Extensive Guide to Help You Find Answers and Restore Health
"Your book is exceptional. It is full of helpful information on how to implement food in trying to control iron overload and l have made changes to my diet accordingly. I find myself reading the book often and each time l read it l find l pick up more information. So all in all l am so very pleased a book has finally been written which can actually be so helpful with doing what we do every day which is eating!!!!"- Australian Reader
Improve Wellness, Support the Body, and Engage Life on Your Terms- Hemochromatosis Can Be Managed Successfully
If there's one word above all others that represents the path to optimal health, it would be this: balance. Yet for those suffering from the underlying symptoms of hemochromatosis, balance can seem impossible. How can we balance a genetic disorder with our goal for a truly healthy life?
It was a question that I had to answer in my own life, and the answers led me to build a guide for everyone else silently suffering through a life where it feels like your own body is turning against you.
In This Book You Will Learn:
Plus many more tips and strategies!
Many Helpful Tips To Put Into Practice
"I found many helpful tips and can put most of them into practice. I have marked a number of passages for quick reference. So far keeping my ferritin under 50 and thus have a reduced my phlebotomies to one every two months whereas before it was once a month. I found the book easy to read and understand.  Thank you for writing the book and for the website."- D.G. Stroud, La Crosse, Wisconsin, USA
Thank You So Much For Your Help
"Really love your book. It has been so helpful- so much so that I am ordering a copy for my daughter who has one C282Y gene. Thank you so much for your help. You are a real blessing to me. You have really done a wonderful service to help people."- Kathie Booth, Sellersburg, Indiana, USA
Who Needs to Read Holistic Help for Hemochromatosis?
Read a Sample from Holistic Help for Hemochromatosis
Clear Explanations of Complicated Subject Matter
"I've received your fine digital version of your book, and am enjoying thoroughly, your very clear explanations of the rather complicated matters of HHC. I also would like to purchase the print version. Your book is well worth that amount, no question! Thank you for your superb book!"- Ron Dutcher, Toronto, Ontario, Canada
Confident in the Contents and Able to Implement Changes in my Diet
"27 pages of bibliographies really enhanced my confidence in the contents...  I have memorized the do's and don'ts to be incorporated  into my diet and have started to implement them.  A very "readable" book.  Nothing to change... Thank You for the book!!"- JEC, Oakville, Ontario, Canada
Scientific But Not Above Your Head
"It is VERY well written. You can understand it scientifically but at the same time, it is not written 'above your head'. In the future, I will highly suggest this book to newbies."- ALS, Sequatchie, TN, USA
The Book Has Increased My Awareness
"This book increased my awareness of the oxidative stress that iron overload causes and the nutritional and supplemental strategies to use. The information is presented clearly."- W. Heath, Oakland PA, USA
Evidence-Based Analysis of Dietary, Nutritional and Herbal Remedies for Iron Overload
In This Book You Will Learn
Layout Easy to Understand
"I received and have read the new book. As someone who struggles to read a lot in a short space of time I'm amazed at myself for already reading the whole book. It must in part be due to the layout being easy to understand. I feel I have learnt something and so it was worth the purchase thanks for the hard work putting it together."- David Hill, Liverpool, UK
The Book is Easy to Read and Follow
"Loved the book!  Easy to read and understand which was a huge plus.  Already doing so many of the ideas.  I felt it was easy to understand and follow. Thank you!"- Reader from the USA
Comprehensive, Detailed, Organized, Well-Researched and Easy to Understand
"The book is very comprehensive, detailed, organized, well-researched and easy to understand. Technical and scientific terms were explained in simple terms so that someone without a medical background could understand the concept. I have implemented several of the helpful ideas into my life. As I have time, I plan to read the book again and implement any ideas that I may have missed during the first reading. The Appendix is a helpful tool for referencing information quickly. The Take-Home Messages were helpful by condensing information into quick to read and easy to understand terms. The Bibliography was very thorough and detailed. It gives the reader assurance that the information contained in the book is well-researched."- Doris, Dayton, Ohio, USA
Dr. Eric Lewis is a naturopathic physician who also has hereditary hemochromatosis. With his unique perspective of being both a practitioner and a patient, he brings new insight into holistic approaches to iron overload, providing new understanding about the best diet and supplementation strategies to help support health with hemochromatosis.
In 2012, he founded the website HemochromatosisHelp.com to share with the rest of the world what he has learned about iron overload in a clear, easy-to-understand, and friendly way.
Dr. Lewis is an honors graduate holding a Doctorate in Naturopathic Medicine from the Southwest College of Naturopathic Medicine. He is in private practice with his wife, Kristina (also a naturopathic physician), in Asheville, North Carolina.