Cooking for Hemochromatosis by Dr. Kristina Lewis, ND
Recipes, Menus, and Culinary Strategies to Lower Iron in Your Diet
The Easy-to-Use Cookbook for People Who Have Hemochromatosis
My name is Dr. Kristina Lewis, and I am a Naturopathic Doctor married to a husband who has a a genetic predisposition to iron overload.
Cooking for Hemochromatosis: Recipes, Menus, and Culinary Strategies to Lower Iron in Your Diet is based on extensive research on how iron affects the diet.
In this book, I expertly guide you through the major food groups, outlining what to look for and what to avoid. I also show you how foods combine with one another in a meal to help you understand how to lower iron in your diet while still being able to eat healthy and delicious food.
This comprehensive cookbook, a companion to my husband Dr. Eric Lewis's book, Holistic Help for Hemochromatosis, offers more than 100 research-based, wholesome and easy-to-follow recipes.
Inside you'll find meal ideas for breakfasts, salads, appetizers, entrées, sauces, and desserts. There's something for everyone, featuring cuisines from around the world, and including dishes adaptable for diets ranging from vegan to Paleo, low-carb to low-fat, and gluten-free to dairy-free.
With Cooking for Hemochromatosis, you'll be empowered to shop and cook with confidence – and enjoy eating again! With a little preparation and some easy-to-understand advice, it is possible to manage your iron overload and live life on your own terms.
I appreciate the wide variety of interesting but accessible recipes... Hemochromatosis doesn't have to mean boring meals! Nice job! One of the things about your recipes is that I'm stretching my cooking experience into new territory, which is a good thing. Preparing this recipe was an adventure appealing to multiple senses. The recipes are very easy to follow. I just now enjoyed a bowl of a lovely concoction and it was very tasty. Thanks for all of your hard work on the recipe book! The book is truly wondrous! Now I'm looking forward to spending much more time reading and cooking. What an adventure! Very, very good job on the book and on all of the help both of you provide for hemochromatosis patients. Thank you.
I have found this book so helpful. It has been a great resource for me. I have changed a lot of my food pairings based on the information in the book. I feel I am better at reading labels in the store and has helped me make better choices. I really enjoyed the meatballs I thought they were easy to make and my husband even liked them 😊 My husband and I enjoy cooking and I wanted to know more about iron consumption and how to make changes with our favorite recipes and the book has definitely done that. Oh the steak recipe was amazing I really enjoyed that and did not feel guilty eating it 😊😊 The book sits on my kitchen counter and I use it every day, it has post it notes throughout. Definitely a great purchase!
Your Comprehensive, Science-Based Guide for Buying and Preparing Food When You Have Hemochromatosis
Discover more than 100 healthy recipes and foundational cooking strategies to reduce your iron absorption and enjoy eating again!
Cooking for Hemochromatosis: Recipes, Menus, and Culinary Strategies to Lower Iron in Your Diet is a comprehensive guidebook to help you plan, shop, and cook to reduce iron in your diet. Much more than just a cookbook, it will teach you how to decide what to eat, plan meals, and enjoy food again when facing iron overload.
Explore Recipes and Cooking Strategies for Hemochromatosis in our One-of-a-Kind Cookbook
Hereditary hemochromatosis is one of the most common – and most commonly misdiagnosed – genetic conditions. If you suffer from this condition, you may also have a great deal of confusion about what to eat. Conflicting advice can make you feel as if you'll never be able to enjoy food again. It doesn't have to be that way.
Seeing her husband face similar challenges, Dr. Kristina Lewis was inspired to learn how to combine both her research and cooking skills to help him. Her training as a naturopathic doctor, love of creating delicious meals, and desire to help her husband has inspired her to share what she's learned with the world through this unique resource guide.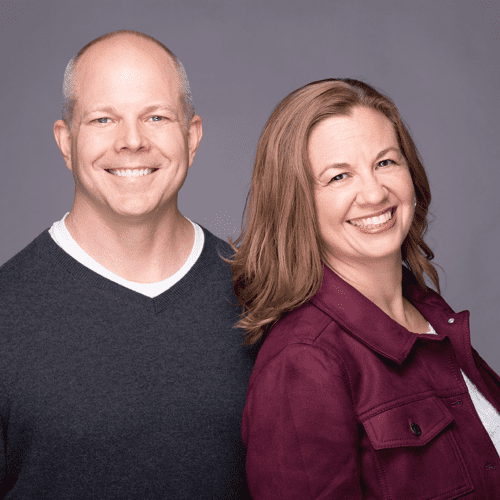 In This Book You Will Learn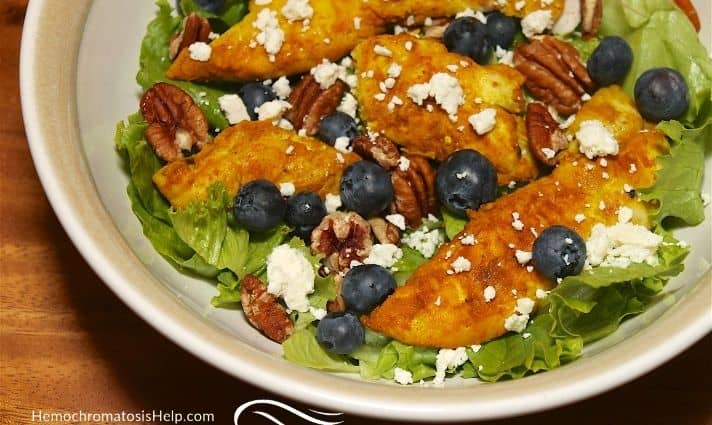 Myth busting with regards to food combinations! I can eat eggs & banana! When diagnosed was told that I shouldn't eat certain foods together, so have eaten bland diet. The best and worst foods to eat for Hemo. Your recipes are invaluable and detailed giving understanding of food combinations to inhibit iron. Grab and go snacks, Roasted Broccoli and cauliflower, Turmeric yogurt, beautiful berry bars, purple iced tea. All I've tried are nutritional and tasty. A good book written with understanding and love. Thank you for enhancing my meal times!
I really liked how the book has the different food groups separated and gives the specifics and its impact on people with iron overload. I have really watched those foods when I am eating high iron meals. I loved so many of the recipes and have made several of them a few times. Cauliflower crust pizza with the low iron pesto are my favs at the moment. Recipes were easy to follow.
Excellent cookbook, the best one out there. I have learned so much about what is good and what is bad and the foods that should not be combined and why. I like how I can take a recipe and modify a ingredient or two and you have a different meal.
The recipes I have tried are very tasty, simple, healthy and varied, which is very important. All three dishes are very delicious, everything is perfect, congratulations. I've learned a lot from you and your husband about hereditary hemochromatosis, I would like to say that you have been very positive to me…Your website is very good and useful and I think you are doing a good job. People with Hemachromatosis must be aware that health and life are in their hands. Always be prepared to learn and apply good things in practice. Then the result comes.
This book has proved to be extremely helpful. My wife suffers from hemochromatosis and was not doing the best as I had no idea of the severity of this condition this book gives us so many tricks and so much of an understanding of what she can and can't have and even things she can have in small doses. This is an absolute essential in our kitchen now , Thanks Guys !!!!! Fav recipe is the chicken and mushroom pie and the ham and mushroom quiche as they are delicious . I have read the book front to back and am in the process of implementing my findings in the kitchen it has also helped substantially with weight loss! This should be taught to all up and coming chefs all around the world.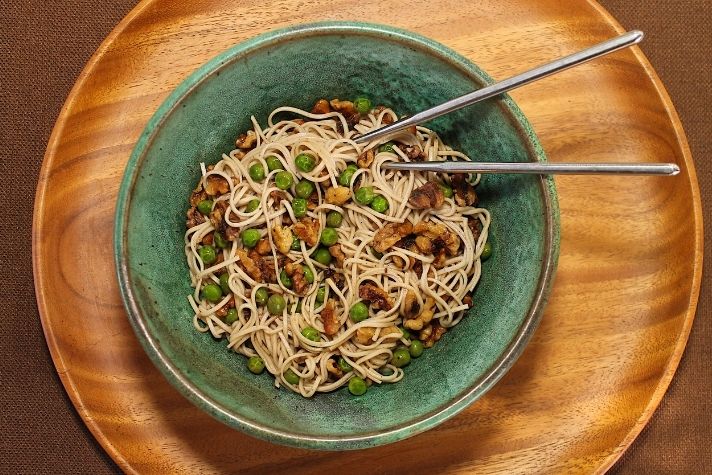 Who Needs to Read Cooking for Hemochromatosis?
Read a Sample of Cooking for Hemochromatosis
Want a sneak peek of the contents of this cookbook?
Click below to expand and read the table of contents (including all 100+ recipes listed by name), the entire introduction and the first chapter, as well as sample recipes, photos, tables and more!
To view larger, select the [Fullscreen] icon in the middle of the book sample below.
It was easy to read and thank goodness it gave me and my husband a list of what foods to avoid or limit and what foods he could have. The explanation of why the recipe was good for hemochromatosis was very helpful. The oatmeal cookies and berry bars - dessert is our favorite. We are still experimenting with the entrees. I am so glad I purchased the cookbook. It makes shopping a lot easier now that we don't have to play guessing games anymore. Thank you Dr. Lewis!
Very informative and easy to understand. I especially liked the notes that explained how certain foods function for or against each other. I have not tried any of the recipes yet but am looking forward to making the cauliflower pizza plus the garlic and oil spaghetti. Sounds yummy! Love that you included so many ethnic menus! Your notes are very helpful as well as your reasons why each recipe works for Hemochromatosis. Easy to read and understand!
I like the tabulations very much. At a glance I can see the type of foodstuff and its composition. A lot of research must have been involved in their compilation. Even though I live in the southern hemisphere I can locate the food description that I am familiar with. Thank you for the metrication. Thank you for sharing all your research! All unfamiliar terms (to myself) were invariably explained/clarified.
Gained an understanding of the condition and how to deal with it, factual but easy to read. Fluently written, very helpful. Detailed explanation of the various categories of foods and example recipes that can be adapted to recipes more typical of what we eat in this country (Australia). Still working through it, baking is good, as are breakfasts. Great to have ingredients and temperatures in both measurements for international readers.
An Extensively Researched, Comprehensive Cookbook
To Help You Reduce Iron Overload
In This Book, You Will Discover: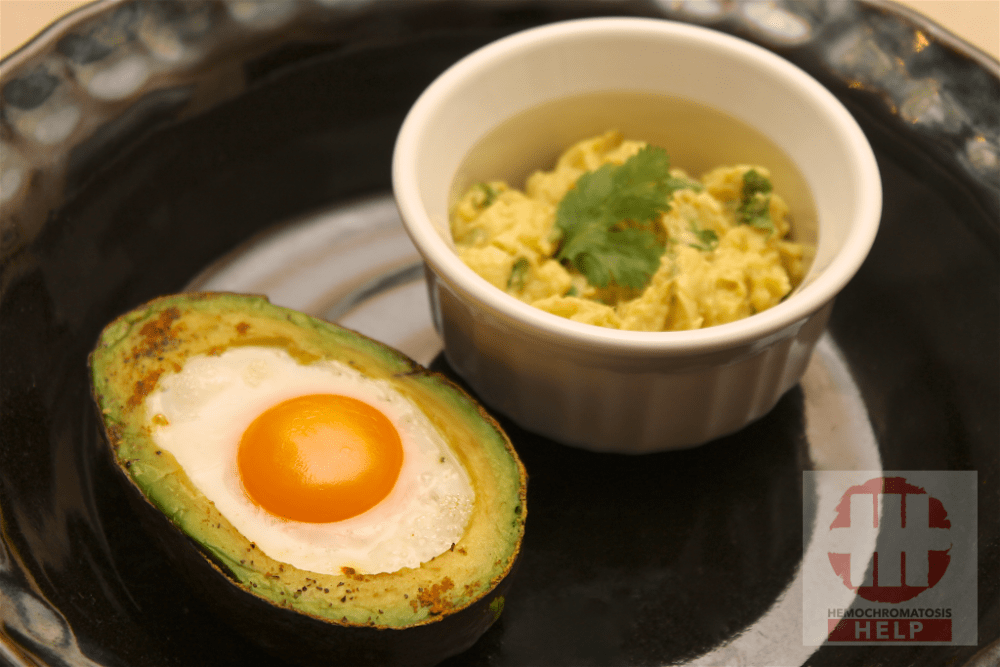 Very well researched and written! The best recipe book I have found and written by someone with firsthand experience! Really appreciate the explanations of why the different ingredients work together to inhibit iron absorption. This helps educate the reader to have a different mindset about the overall diet. I have incorporated many of the recipes into my diet. Very pleased overall! Probably one of the simplest recipes in the book is the frozen oatmeal cakes which has sure made putting together a quick breakfast easy! I just never thought about freezing oatmeal before. Also like the salmon patties and everything else I have tried! Everything so far has worked well.
I got my cookbook yesterday. I love it. It's really good, and I am already using it. I like all the information on Hemochromatosis and how the foods all work together and why, especially the little explanation on why the recipes work for us. I can see how this book will teach me to make up my own recipes to fit the foods we like.
The other Hemochromatosis cookbook I bought does little of this and the recipes are not the types of food we eat. I was sorry I bought this other cookbook as I will never really use it. Your cookbook is very useful and I thank you for writing it. You did a great job.
I think the book is laid out very well and I like all the planning that went into it. I love the way it is explained why these recipes work. Thank you for keeping us informed on iron overload and for presenting such a lovely book!
I love the breakdown of nutrients in the recipes you provide.
I loved all your explanations. I want to learn all I can about eating real food again. The pictures are great.
Pairs Well with the Hemochromatosis Help Diet Book
Holistic Help for Hemochromatosis
By: Dr. Eric Lewis, ND
Holistic Help for Hemochromatosis is a complete guide to the use of diet and supplements in healing from iron overload. With Dr. Eric's unique perspective of being both a practitioner and a patient, he brings new insight into holistic approaches to iron overload, providing new understanding about the best diet and supplementation strategies to help support health with hemochromatosis.
Learn More Here: The Hemochromatosis Help Diet Book
Just received book, finding it difficult to put down! 👍👍 I have been supremely surprised with the effect of being cognizant of the "Six Substances" when planning my whole food plant based meals. I am feeling very optimistic and enjoying feeling good.
Thank you, Dr. Kristina Lewis!!
I just want to reiterate how inspired I am by your approach
to this book.
It's abundantly clear on every page that this is a labor of love for your readers and that you've put so much time and effort into making this a helpful text for a very diverse audience.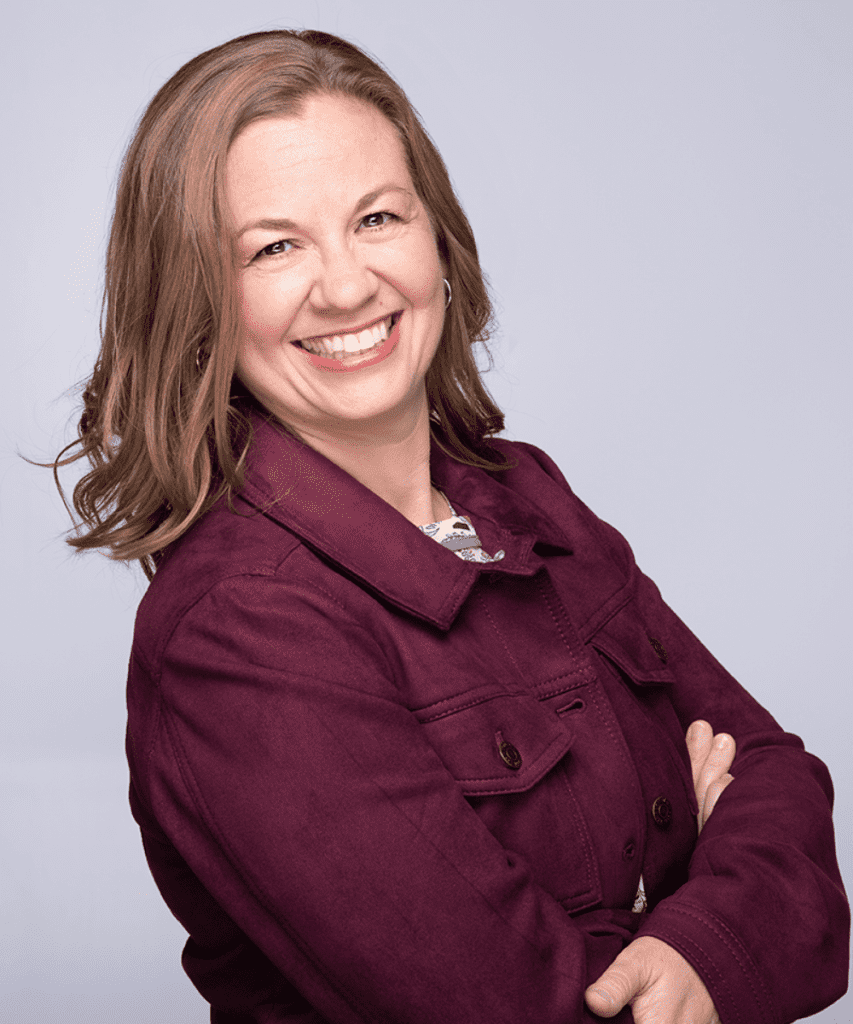 Dr. Kristina Lewis is a naturopathic physician in practice with her husband, Dr. Eric Lewis, in Asheville, North Carolina. When her husband discovered he had hereditary hemochromatosis and founded the website HemochromatosisHelp.com, she became very involved in researching, writing, and teaching about this condition both as a health-care practitioner and as a concerned wife.
After the publication of Dr. Eric's book, Holistic Health for Hemochromatosis, it became clear that a companion guide with recipes and cooking instruction was what the readers of Hemochromatosis Help needed next. As someone who naturally loves to cook and who finds inventing tasty and healthy recipes a fun challenge, Dr. Kristina decided to take on the challenge of creating a cookbook for hemochromatosis from a holistic perspective. Little did she realize at the time what an involved project this would become! More than two years and countless hours later, she is excited to finally share her recipe inspirations with the world in Cooking for Hemochromatosis.
Dr. Kristina Lewis is an honors graduate holding a doctorate in naturopathic medicine from the Southwest College of Naturopathic Medicine in Tempe, Arizona. In her private practice she works with women on a wide range of health issues, including iron overload. She and Dr. Eric have two young children and she is fully enjoying being a mother as well as a doctor!