Healthy Low-Iron Vegetarian and Vegan Recipe
This beautiful green soup, a vegetarian and vegan-friendly hemochromatosis recipe, is low in iron and rich in protein and phytates. This creamy soup makes for a great lunch or dinner for those looking for low-iron recipes. The mint brings a freshness to the overall flavor that is really pleasant!
You can make this into a vegan recipe by using non-dairy milk or by eliminating the milk altogether. Alternatively, if you're not a vegetarian, feel free to substitute the vegetable stock with chicken stock.
This recipe comes from my book, Cooking for Hemochromatosis, and is an example of the many creative ways to enjoy cooking and eating delicious meals when you have iron overload.
Why This Recipe Works for Hemochromatosis
SPLIT PEAS:
Legumes, such as split peas, are excellent sources of plant-based protein that are also rich in iron-blocking phytates. Some legumes may also be high in iron, but split peas are some of the lowest-iron legumes. When cooked correctly and combined intelligently, legumes become excellent options for an iron-reducing diet.
VEGETABLES:
A challenge when adding vegetables into a hemochromatosis recipe is to watch out that the vegetables themselves are not high in iron. It's also important to make sure they are not too high in iron-enhancers like vitamin C or carotenoids, which can cause the iron in the rest of the meal to be absorbed in greater amounts. Although green peas and onions both contain some of these nutrients, I have carefully adjusted the portions to keep their impact on iron absorption minimized so you can safely enjoy these healthy foods!
MILK:
Calcium-rich dairy products provide excellent blocking of both heme and non-heme iron. Non-dairy milk often contains calcium, too, so you are not limited to only cow's milk products.
GREEN TEA:
Green tea is very rich in polyphenols; polyphenols are health-promoting antioxidant nutrients that prevent iron from being absorbed from a meal.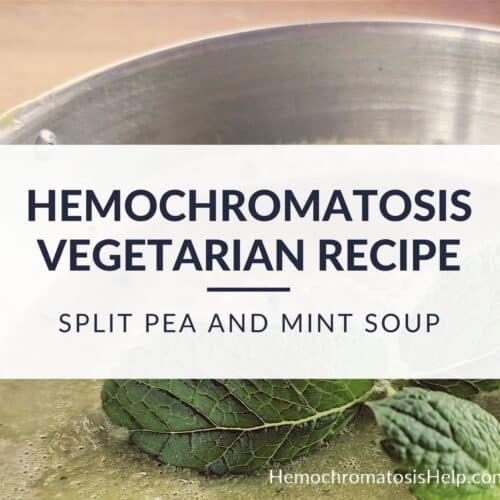 Split Pea and Mint Soup
This beautiful green soup is low iron but rich in protein, making it a great lunch. The mint brings a freshness to the overall flavor that is really pleasant. From Cooking for Hemochromatosis by Kristina Lewis, ND.

Ingredients
⅓

cup (66 g)

dried green split peas

3½

cups (840 ml)

water

plus 1-2 Tbsp extra water

1

tablespoon (15 ml)

extra virgin olive oil

2

medium onions

coarsely chopped

3

cloves

garlic

minced

5

cups (1.2 L)

vegetable stock

½

teaspoon

salt

plus more as needed

¼

teaspoon

black pepper

plus more as needed

2

green tea bags

10

ounces (280 g)

fresh or frozen green peas

10 to 20

fresh mint leaves

plus more as needed

Milk or cream

optional, to taste
Instructions
Put the split peas and 3½ cups (840 ml) of the water in a large pot over high heat. Bring the split peas to a boil, then reduce the heat to medium and simmer, uncovered, for 30 to 40 minutes, until the split peas are tender and most of the water is absorbed. Scoop the cooked split peas from the pot into a small bowl.

In the same large pot over medium heat, combine oil, onions, and additional 1 to 2 tablespoons (15 to 30 ml) water. Cook the onions for 5 minutes, then add the garlic and cook 2 additional minutes, stirring frequently.

Add the split peas, vegetable stock, salt, and pepper and bring the mixture to a boil over high heat. Reduce the heat to medium, add the green tea bags, stir, and simmer, uncovered, for 5 minutes.

Add the green peas and mint, and adjust the temperature as needed to keep the soup at a gentle simmer for 10 to 15 minutes.

Remove the pot from the heat, remove and discard the green tea bags, and let the soup cool for 10 minutes.

Puree the soup using a blender or immersion blender. Season the soup with additional salt, pepper, and/or mint to taste. Add the milk (if using) to make a creamy soup.

Serve the soup garnished with an additional mint leaf.
Notes
Use nondairy milk to make this soup vegan.
If you aren't vegetarian, chicken stock will also work well in this recipe.
For a thicker soup, simmer longer to reduce the liquid to your desired consistency.
Find Answers and Restore Health