Healthy Low-Iron Breakfast Recipe
Breakfast can be a challenging meal when you learn you have hemochromatosis. A reader once wrote to us, "I need breakfast ideas as most of the cereals I used to eat I found out were iron-fortified!" 
Breakfast foods are also often heavy in iron-rich meats and may be served with vitamin C–rich fruit or fruit juices, adding to the frustration.
Thankfully, many traditional breakfast foods can still be incorporated into a hemochromatosis diet. 
This recipe comes from my book, Cooking for Hemochromatosis, and is an example of the many breakfast ideas available when you have iron overload.
Why This Recipe Works for Hemochromatosis
EGGS:
In the world of hemochromatosis, if you like or can eat eggs, they can quickly become one of your best friends. They can be an excellent source of dietary protein that doesn't increase iron levels.
At first glance, eggs seem to be high in iron. One large chicken egg contains just shy of 1 mg of iron. But eggs also contain something called phosvitin, the "egg factor" that blocks iron not only from the egg itself but also from the rest of the meal. The more eggs you eat at one sitting, the more iron that's blocked from that meal! Studies have shown that adding three eggs to a meal may reduce iron absorption by nearly 80 percent.*
AVOCADO:
A nutrient-dense fruit (yes, it's a fruit, not a vegetable!), avocado is full of good fats, naturally low in sugar and salt, and delicious. The good news for you is that it's also naturally low in iron!
CURRY POWDER:
Curry powder is just one of many herbs and spices high in polyphenols, health-promoting antioxidant nutrients also prevent iron from being absorbed from a meal.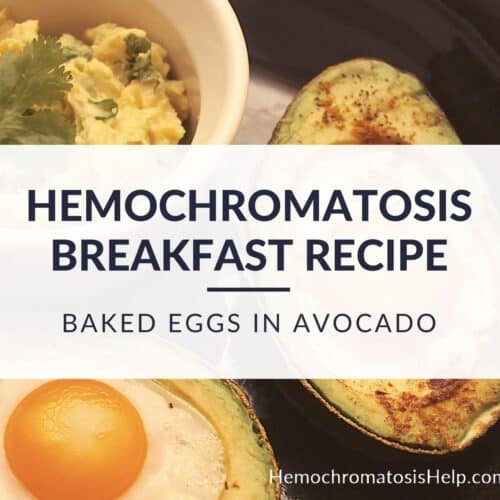 Baked Eggs in Avocado
This recipe makes a satisfying and filling breakfast to start your day. Don't worry if your avocado is overripe—this recipe will still turn out just fine! From Cooking for Hemochromatosis by Kristina Lewis, ND.

Ingredients
1

large avocado

Salt and black pepper

to taste

Curry powder

to taste (optional)

2

large eggs

1

tablespoon (3 g)

fresh cilantro

finely chopped

Olive oil

to taste
Instructions
Preheat the oven to 425°F (220°C).

Slice the avocado in half and remove the pit. Slice a small section from the back of each half to make a flat surface in the skin, then place both halves, flesh-side up, on a small rimmed baking sheet lined with foil. Using a spoon, carefully scoop out some of the flesh to make a little more space for the eggs but don't go all the way to the skin. Place the scooped-out avocado flesh in a medium bowl and set aside.

Sprinkle the salt and pepper and curry powder (if using) on both avocado halves. Carefully break an egg into each half, being sure not to break the yolks. Sprinkle some additional salt and pepper and curry powder (if using) on the eggs if desired.

Bake the avocado halves for 15 minutes for a poached egg (with a runny yolk), or 18 to 20 minutes if you prefer your eggs more solid.

While the eggs are baking, add salt, the cilantro, and olive oil to the reserved avocado. Mash lightly to make a topping for the eggs.

Once the eggs are done, remove them from the oven and let them sit 1 minute. Place each avocado half in a bowl. Scrape up any crispy eggs that remain on the baking sheet and add them to each bowl for an extra crunch. Top the eggs with the avocado-herb mixture and eat with a spoon.
Notes
If you've ever cut open an avocado only to realize it was too hard and not ripe yet, this is a great way to salvage it. After being baked, the avocado will end up perfectly soft, no matter how it starts out.
Don't be tempted to skip lining the baking sheet with foil; this recipe can create a very stubborn baked-on mess that takes a lot of elbow grease to clean. Trust me on this one.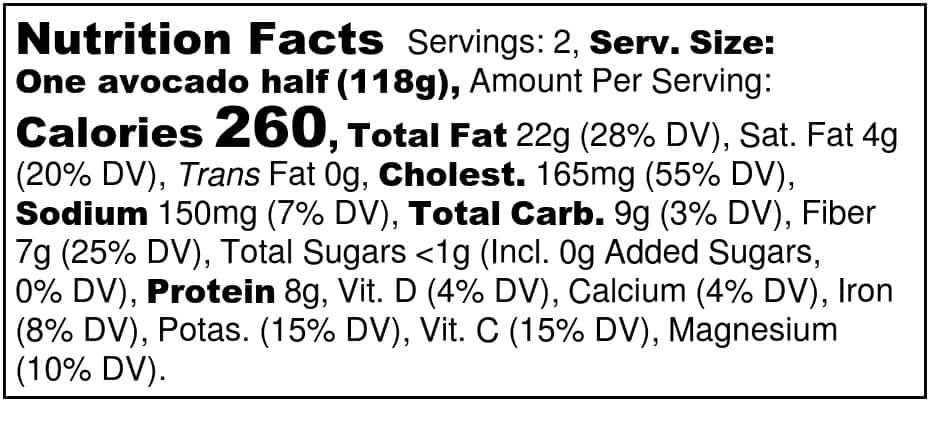 *Leif Hallberg and Lena Hulthén, "Prediction of Dietary Iron Absorption: An Algorithm for Calculating Absorption and Bioavailability of Dietary iron," American Journal of Clinical Nutrition 71, no. 5 (May 2000): 1147–1160, https://doi.org/10.1093
Find Answers and Restore Health