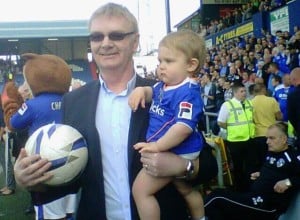 I have done a short story of life with GH (1).
It all started in 1998 when I wasn't feeling well and I went to see my gp. He felt my liver was enlarged and referred me to The Royal Oldham Hospital to see a consultant.
After being accused of drinking too much (5 or 6 pints twice a week) and after about 3 appointments with him and 12 months later I was diagnosed with GH.
My knuckles were also swollen and I was having problems with my ankles. My ferritin level was 5800 and started having venesections.
Just after being diagnosed, I went to Tenerife on holiday.
When I came back I was rushed into hospital with what looked like DVT. After several months in and out of hospital it was decided I had stood on some sort of shellfish on the beach and for someone with GH, it could be fatal (2). I was put on antibiotics for a further 6 months.
Fortunately it has never come back.
In 2007 I had an ankle fusion, because of the arthritis that had developed over the years because of the iron deposits on my joints. I had a heart attack during surgery and I was in hospital a week longer than expected. The fusion was not as successful as expected and I am still in great pain, now in both ankles.
GH as slowly dismantled me from being a keen sportsman (playing football and snooker) to now struggling to walk without pain.
I have maintained my ferritin under 50 for many years but last year it started to drop alarmingly and after an MRI scan, which I had to be drugged to get in, I was diagnosed with primary liver cancer. It's important to take control of all your treatments when you have GH. Because GH had also given me Liver Cirrhosis, I was aware there was a likelihood that one day I would get cancer. This knocked myself and family of 6.
Nobody can prepare you for being told you have cancer.
On the 28th July 2014 I went into North Manchester Hospital and a liver resection. A section of my liver where the tumor was, was cut out.
A week later I came home and had 11 weeks off work. I have my own business selling industrial fixings and fasteners. I went back part time for a few weeks but now I am back full time.
I am not the same person as I was before the cancer but I am slowly getting there, mentally and physically, but I know one day it is almost certain to come back in a different part of my liver.
The most important thing to do when you have GH is to take control of all you treatments. Organise your own venesections, blood tests and scans.
I have not had a drink for 15 years now which has been important in maintaining a working life.
Thank you,
Mike Smith
Chadderton, Oldham
Genetic Haemochromatosis
Vibrio Vulnificus, a potentially deadly bacteria that thrives in a high-iron environment
Find Answers and Restore Health