This fun mixture of flavors makes for a colorful salad: beautiful blueberries with fresh green lettuce, pure white cheese, and bright-orange grilled chicken.
The ingredients in this salad bring many tools for combating iron overload to the table: namely calcium and polyphenols.
Also significant is what this recipe does not include: it is naturally low in iron enhancers such as vitamin C or carotenoids and uses lower-iron ingredients such as chicken and butterhead lettuce (compared to higher iron options for protein and salad greens).
This recipe comes from my book, Cooking for Hemochromatosis, and is an example of the many creative ways to enjoy still cooking and eating delicious food when you have iron overload!
Why This Recipe Works for Hemochromatosis
CHICKEN:
When trying to eat a low-iron diet, animal meat is sometimes one of the first food groups to go. However, chicken tends to not be as high in iron as you might suspect, and meals made with chicken often make excellent options for lower-iron eating.
FETA OR BLUE CHEESE:
Calcium-rich dairy products like feta or blue cheese provide excellent blocking of both heme and non-heme iron from this entrée salad.
TURMERIC, CURRY POWDER, BLUEBERRIES, AND PECANS:
Turmeric, curry powder, blueberries, and pecans are all very rich in polyphenols. Polyphenols are health-promoting antioxidant nutrients that prevent iron from being absorbed from a meal. This recipe includes polyphenolic-rich foods in multiple places to boost their overall effects!
SALAD DRESSING:
Many salad dressings include acidic-ingredients such as vinegar, citrus juice, or soy sauce, all of which can enhance iron absorption and are contraindicated in low-iron recipes. This recipe utilizes the ingredients' natural flavors with a simple olive oil coating to maintain the flavor without accentuating iron absorption from the salad ingredients.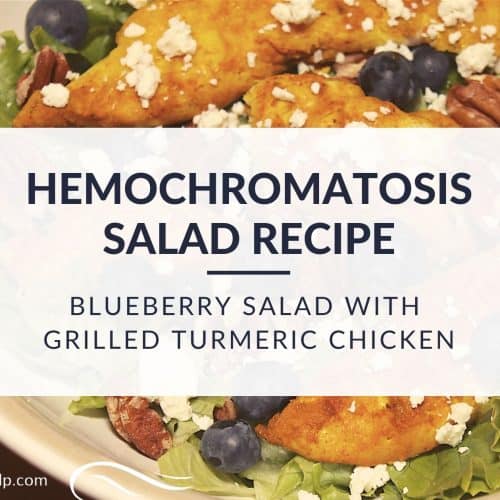 Blueberry Salad with Grilled Turmeric Chicken
This fun mixture of flavors makes for a colorful salad: beautiful blueberries with fresh green lettuce, pure white cheese and bright-orange grilled chicken. From Cooking for Hemochromatosis by Kristina Lewis, ND.
Ingredients
1

pound (450 g)

chicken breasts, cut into 1-inch (2.5-cm) thick strips

Salt and black pepper

as needed

1

teaspoon

ground turmeric

½

teaspoon

curry powder

5

tablespoons (75 ml)

olive oil, divided

4

cups (120 g)

coarsely chopped butterhead lettuce

1

cup (144 g)

fresh blueberries

½

cup (60 g)

pecan halves

2

ounces (58 g)

feta or blue cheese, crumbled
Instructions
Season the chicken with the salt and pepper.

In a small bowl, make a paste with the turmeric, curry powder, and 1 tablespoon (15 ml) of the oil. Coat the chicken strips in the paste and set them aside.

Preheat the grill, electric grill, or stovetop grill pan to medium-high heat (400°F [200°C]). Spray it with cooking spray then add the chicken and cook 5 to 7 minutes per side (or 5 to 7 minutes total with a two-sided electric grill) until the chicken reaches an internal temperature of 165°F (74°C).

Fill 4 salad bowls with the lettuce and coat it with the remaining 4 tablespoons (60 ml) oil, then top with the chicken strips, blueberries, pecans, and cheese.
Notes
Why This Recipe Works for Hemochromatosis
Maximum 1.6 mg iron per serving.
Iron is blocked by the:

phytates in pecans;
polyphenols in turmeric, curry, blueberries and pecans;
calcium in cheese and pecans.

Iron is not enhanced because:

the vegetables recommended are low in vitamin C and carotenoids;
this recipe does not use a vinegar-based salad dressing.

Find Answers and Restore Health