Find Answers and Restore Health in Iron Overload
Hemochromatosis is a genetic metabolic disorder of excess iron absorption and too much iron storage in the body. Find the diet & supplement help you need here.
Hereditary Hemochromatosis (HH) can be scary, lonely, and intimidating. As a Naturopathic Doctor with the condition of iron overload, it is my goal to help you understand the safest and most effective dietary and supplemental strategies available.
Hereditary Hemochromatosis – One of the Most Common Genetic Diseases
You are not alone!
In fact, estimates show 1 in 9 people of Northern European descent are carriers of the HFE gene mutation that can cause this disease of iron overload and 1 in 200 carry two genes.
2 copies of the C282Y gene is the most likely mutation to cause symptoms.
These individuals are called homozygous carriers– and their health is very seriously at risk.
A combination of the C282Y gene with a mutated H63D gene is also likely to express symptoms of the disease.  The term for this condition is called "compound heterozygote".
Many resources will tell you that people with only one copy ("heterozygotes") of the HFE gene are unlikely to express any symptoms or problems.  Well, as an individual with just one copy, but plenty of symptoms of too much iron… I beg to differ!
Hemochromatosis Help from a Holistic Doctor
Hello, and welcome to my site!
My name is Eric Lewis, and I am a Naturopathic Doctor. Like you, I also have a genetic predisposition to iron overload.
My approach to hemochromatosis is holistic, integrative, and hopefully fun!
I can best serve you by integrating the best ideas of science with the art of holistic healing. In my mind, that's how we get results.
As a Naturopathic Doctor, I have a holistic mindset when it comes to health and well being.
In my practice, I work with all of my patients to help them understand their condition and to feel better naturally.  I hear people's stories… their successes, their failures, and their questions and struggles.
As a husband and a father with hemochromatosis, I want to know as much as I can about the subject so I can live a long, healthy, and happy life. I'm certainly trying my best to walk the walk!
My goal with this site is to assimilate, synthesize, and deliver the best information about diet and supplementation strategies for iron overload to you in a clear, easy-to-understand, and friendly way.
So let's get started, shall we?
What is Hemochromatosis?
Just what is hemochromatosis, after all? Because you are reading this page, it is likely that you or a family member have been diagnosed with this condition of iron overload.
Hemochromatosis is a genetic metabolic disorder of excess iron absorption during digestion.
While blood levels of iron may be elevated, the primary problem stems from the accumulation of iron in the body's cells, tissues, and organs.
Iron Absorption: Excess Uptake
Iron Overload: Excess Accumulation
The process of iron overload is typically slow to develop and may not affect a person's health until they are in their 30s, 40s, or even their 50s or 60s.
Symptoms can range from mild to severe, and the disease itself can be fatal if it is not identified in time.
Genetic Causes of Hemochromatosis
Primarily, the condition is genetically inherited, thus why it is often referred to as Hereditary Hemochromatosis (HH).
As a genetic condition, it is very important that family members of an affected person get tested for their iron levels and genetic markers.
Primary, or genetically determined, causes include:
Type 1: HFE Gene
Type 2: Juvenile Hemochromatosis
Type 3: Transferrin Receptor
Type 4: African Iron Overload, Ferroportin
Note- Our primary emphasis for this site will be on the Type 1, HFE gene mutation because it is the most common cause of iron overload (approximately 90% of cases of what is hemochromatosis).
Secondary, non-genetically determined causes include:
Blood Transfusion Related Hemochromatosis
Iron in Water
Iron in Supplements
Foods High in Iron (and the impact of alcohol intake)
HFE, C282Y, H63D, and S65C… oh my!
Type 1 Hemochromatosis is the result of a mutation to the HFE Gene, located on Chromosome 6.
The term for "HFE" is kind of creative, and it stands for "High Iron". Iron's chemical symbol is Fe… thus HFE– see the creativity?
This gene codes for a protein involved in iron absorption, and when mutated, causes the body to take in excess iron from food and water.
Genes often have alternative forms of expression, called alleles. Different alleles can lead to different traits (like hair or eye color), but alleles can also mutate and create "missense" proteins. This change in the DNA is permanent, and can be passed down through the generations.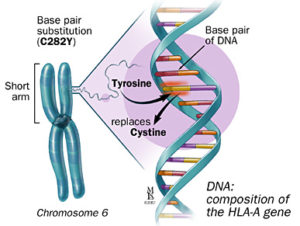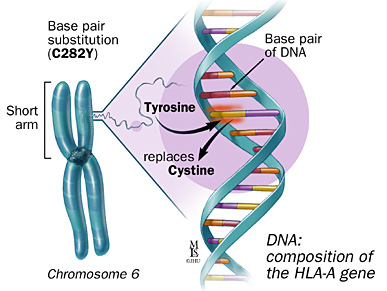 In the genetics of what is hemochromatosis, the most common mutated alleles are:
There are different types of mutations, and the severity of the disease is determined, to great extent, by which type of gene mutation is present:
Homozygote –> 2 copies of C282Y… most likely to be severe
Compound Heterozygote –> 1 copy of C282Y + 1 copy of H63D… 2nd most likely to be severe
Heterozygote –> 1 copy of C282Y (or 1 copy of H63D or S65C)… least likely to be severe, although estimates still show 14% of individuals expressing the heterozygote copy of Hemochromatosis DNA have clinical symptoms (Like I said above, I know I have symptoms of too much iron!)
Solutions for Iron Overload
The good news is that there are excellent treatments that, if started early enough, are highly successful in controlling the condition of too much iron and potentially highly successful in reversing symptoms and improving overall health.
Conventionally, the primary therapy is phlebotomy, or blood donation. This is absolutely the best way to "de-iron" an individual.
Medicines are available for those who are not able to tolerate phlebotomy.
The great news is that there are MANY other recommendations that can be helpful in addition to the medical treatments. This is where I can help you!!
Holistic Help for Hemochromatosis Book
A Guide to the Use of Diet and Supplements in Healing from Iron Overload
The most comprehensive, evidence-based, and user friendly book that's ever been created about the use of diet and supplements for hemochromatosis and iron overload.  Now available.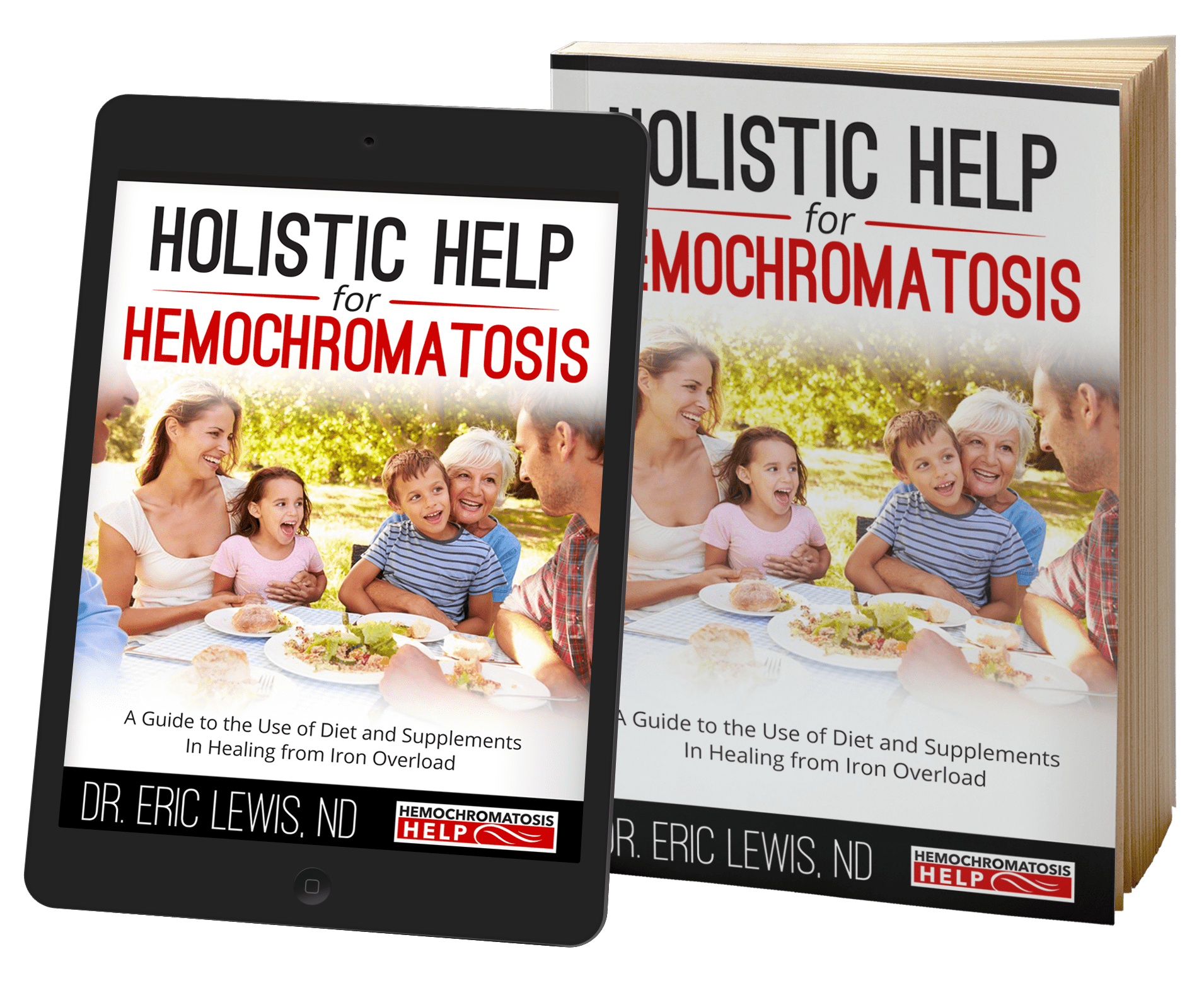 Learn more about the Hemochromatosis Help Diet Book
Nutritional Supplements for Hemochromatosis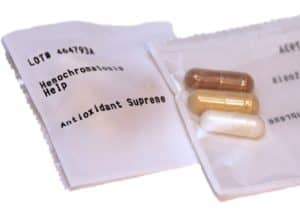 Diet and supplementation strategies can really enhance your health and wellness as a complement to your medical care.
I will help you sort out what makes sense and what doesn't make sense (and what are the scams to be sure to avoid!).
I strongly feel we should integrate the science of medicine with the art of holistic healing.
This is the most comprehensive, and successful, approach to finding the best solutions for better health.
In fact, clinical research has shown many potential health benefits of natural and holistic remedies for iron overload.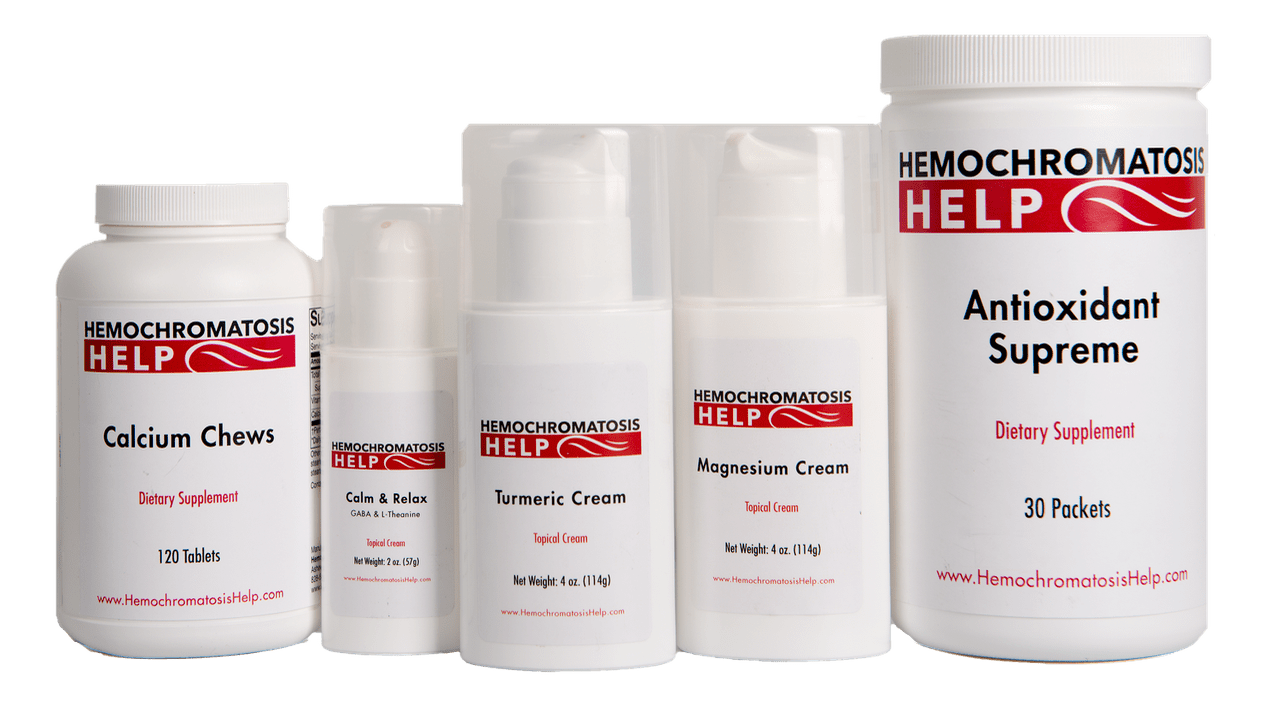 With this knowledge in mind, I have developed a number of supplement remedies specifically for people with hemochromatosis. You can learn more here at: MyHemochromatosisHelp.com
Inspiration and Support in our Community
A primary goal of mine is to "make it make sense".
In other words, how can we safely navigate this condition while blending the best of conventional medicine and holistic health?
One of the best ways I can help you start your education and to help your hemochromatosis is through my newsletter.
In my newsletter, I will help you learn all about:
The problems of having high iron
How to think about diet, nutrition, and food
Holistic and natural solutions for hemochromatosis
Supplemental strategies that will help you improve your health
All in a clear, easy-to-understand, and friendly way.
Ultimately, I want to help you and your family find answers and restore health.
We're all in this together!
All my very best,
Dr. Eric Lewis, ND