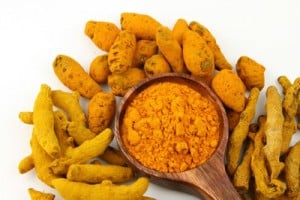 YESSSS!!!
When I first learned about a tangible, real turmeric benefit for reducing too much iron (like in Hereditary Hemochromatosis)...
Well, I couldn't stop myself from shouting in glee! 🙂
I am always on the look-out for remedies that are safe, effective, and practical. While medical researchers have long understood a wide range of turmeric extract benefits, a lot of the focus has been upon pain relief from this anti-inflammatory supplement.
Naturally, I'm interested in reducing the pain and inflammation of hemochromatosis, however I'm even more intrigued by the possibility to reduce the build-up of iron overload.
Fortunately for all of us, research has established that one of the many medicinal properties of turmeric is to reduce excess iron from the body.  (References)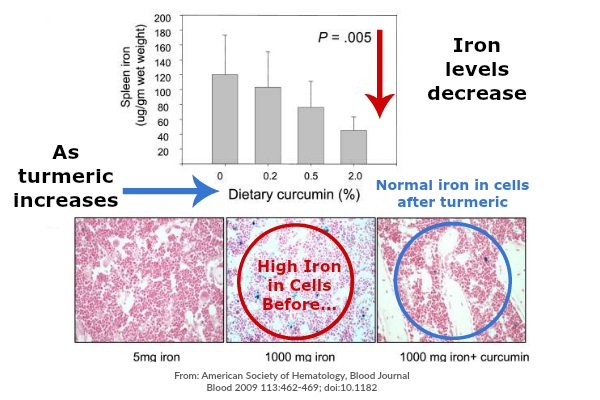 The above graph and photo demonstrate the powerful effect of turmeric (aka Curcumin) in reducing stored iron from the cells.  As turmeric/curcumin levels increased, iron levels decreased.  Researchers from this study concluded simply:
Curcumin is a biologically active iron chelator
This is exceptional news for people with hemochromatosis and iron overload!
But did you know that how you take turmeric plays a big role if it will be effective for you or not?
Turmeric Health Benefits
In general, turmeric and its active constituent, curcumin, have been shown to be an excellent anti-inflammatory supplement.  As a Naturopathic Doctor, part of my approach is to seek the underlying cause of a person's health concerns.
Inflammation is a very common root cause of illness and is suspected to be a precipitating factor in a host of conditions such as heart disease, cancer, liver & kidney disease, diabetes, arthritis, hormonal imbalance... and of course, hemochromatosis!
Inflammation can contribute to pain and fatigue... the primary Hemochromatosis Symptoms we all seem to suffer from.  This alone demonstrates how great turmeric extract benefits can be!
But to also reduce the storage of too much iron?!?
This is why I found myself doubly excited to learn of the medicinal benefits of turmeric.
Medicinal Properties of Turmeric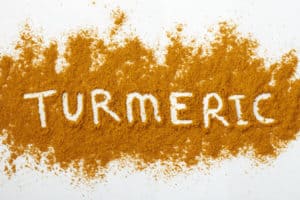 As if reduction of excess iron, inflammation, and pain weren't enough, a host of other properties have been attributed to turmeric:
Antioxidant
Immune Support
Supports Energy Production (Healthy Metabolism)
Enhances Cognitive Function
Hormone Balancing
Helps with a Good Night's Sleep
When I found a remedy that is generally considered very safe that possesses all of these beneficial properties, you can see why I'm so excited by the turmeric benefit to our health!
Introducing Hemochromatosis Help's Herbal Turmeric Cream!
As I mention on my Hemochromatosis Supplements page, there are a number of nutrients, herbs, spices, proteins, or foods that inhibit the absorption of iron in our digestive tract from our diet. This is great!
Better still is the noted turmeric benefit of reducing too much iron that has already accumulated in your body.
Turmeric stands above all other remedies for its ability to actually reduce excess iron... and it is now available in a super convenient skin application.
Talk about one of the best ways to help restore your health! 🙂
What They Are Saying
My husband has been applying just one pump per day of the Hemochromatosis Help Turmeric Cream and his ferritin dropped from 862 to 572 in 2 months! We were floored when the test results arrived. Also, his liver is no longer swollen on palpation. We are so grateful to you, and will be delighted if others experience similar good results.

- Kathleen V., Cape Coral, Florida

I have been faithful with my use of your fantastic TURMERIC CREAM and I swear my overall good health and sense of well-being are a direct result! I apply the cream at night and my sleep seems to be so much improved. I no longer awake in the early a.m. hours. There is a very pronounced sense of calm that I have learned to expect from the Turmeric Cream. In general, I simply feel better and face each day with a stronger resolve to achieve maximum health and enjoyment.

- Nick W., New York, New York

Hi Eric,  just thought I'd let you know my blood test results.  My ferritin level was way down but my transferrin saturation was 48.  Normally if the ferritin and the saturation are up to around 50 or over I would have to have a venous section ( that's what they call it in Australia)  The doctor felt that because my ferritin was way down that she wanted me to not worry about the VS and have another blood test in 3 months.  I told her about the Turmeric Cream and she just said that it could be helping so just keep it up.  (which I would have done anyway)  Anyway, just thought you would be interested to know.  All the best and keep up the good work!! 🙂

- Betsy C., Victoria, Australia

Your turmeric cream is wonderful! In the last 6 weeks since I started taking it, my ferritin level is down 21 points. Also, I can get to sleep so much better now... it's really helpful!

- Geanie C., South Carolina
How to Take Turmeric
Research on the medicinal properties of turmeric is very compelling, especially for those of us with hemochromatosis.  However, there's one (not so little) problem.
Turmeric is very poorly absorbed by the digestive system, and yet nearly all supplements of this herb are in capsule, tablet, powder, or liquid form.  To my understanding, gut absorption is around ONLY 5%... which means to provide a benefit, the amount to take has to be really high- which can get quite pricey.
Fortunately, there is a better way!
After a long time spent researching the best way how to take turmeric, I've found turmeric is absorbed significantly better through the skin than the gut.  Plus, a topical skin application is easy and convenient to use, and applies cleanly.
That's why I'm so excited about the unique, safe, and effective Hemochromatosis Help Turmeric Cream.

Hemochromatosis Help Supplements
Often times, people with hemochromatosis have told me that there aren't many options out there to help support their health.  Physicians don't typically make suggestions beyond phlebotomy or iron chelating medicines, however many individuals have told me that they have had challenges with those therapies.
At the end of the day, the message I get from people is that they simply want to find answers to restore their health... and that's exactly why I hope to help you.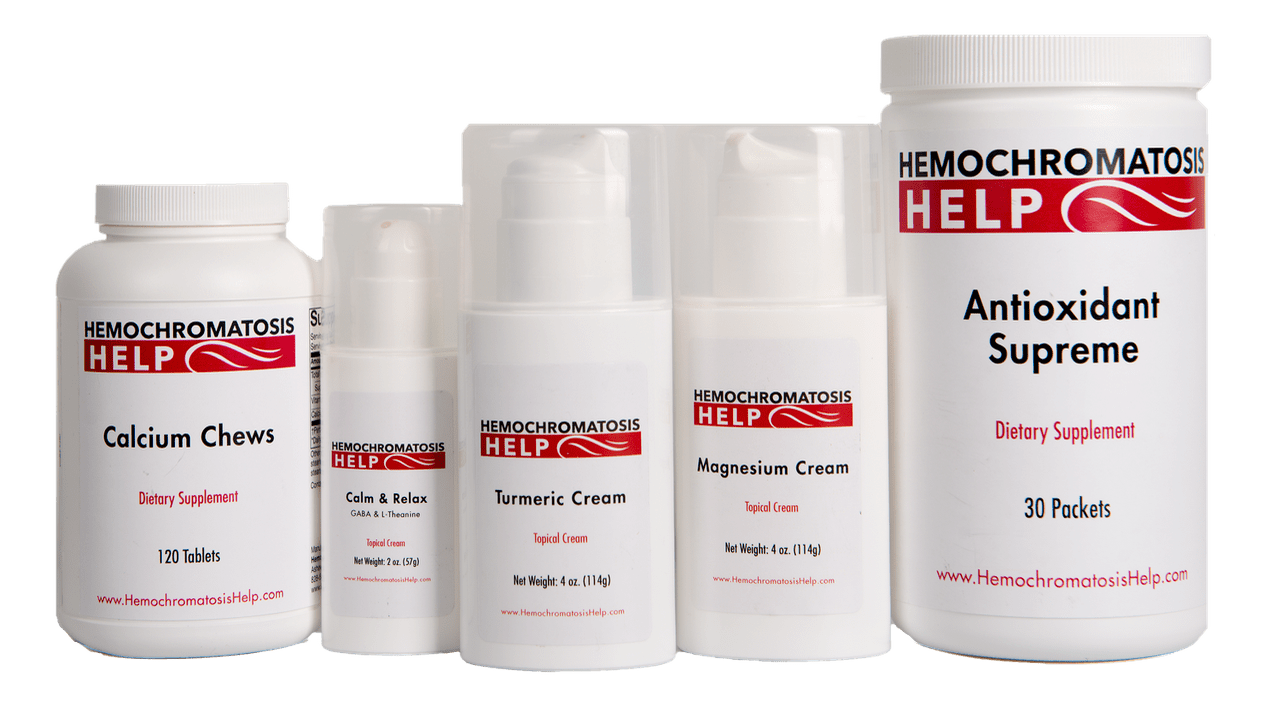 Safety and quality manufacturing are top priorities for Hemochromatosis Help Supplements.  In searching for remedies for hemochromatosis, I choose to only work with professional companies that exemplify the highest quality standards for safety and efficacy... because at the end of the day, that's what is best for you.
Hemochromatosis Help is proud to offer safe, effective, and unique supplements for individuals with hemochromatosis. Handpicked by a Naturopathic Doctor with the condition, you won't find these remedies anywhere else!
Our supplements are for sale and available for shipping both in the USA and Internationally.  You can learn more here: www.MyHemochromatosisHelp.com
To Learn More: The Hemochromatosis Help Diet Book is the most comprehensive, evidence-based, and user-friendly guide that's ever been created about the use of diet and supplements for hemochromatosis and iron overload.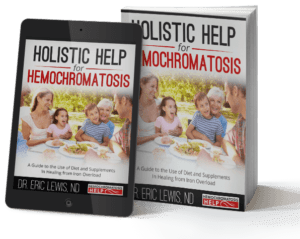 This heavily researched book pulls from the medical literature to provide simple, practical, everyday strategies to be used by those facing iron overload. There's no other book out there that clearly spells out in an easy-to-understand way how to think about food, which special nutrients and foods can protect you, what precautions to take, and which commonly made suggestions may not be the best advice.
Put these tips into action and make a difference in your health today!
* If you have hemochromatosis, you should always be sure to check with your doctor prior to starting any supplement, diet, or exercise routine.  
Dr. Eric Lewis is a naturopathic physician who also has hereditary hemochromatosis. With his unique perspective of being both a practitioner and a patient, he brings new insight into holistic approaches to iron overload, providing new understanding about the best diet and supplementation strategies to help support health with hemochromatosis.
He is the author of Holistic Help for Hemochromatosis and he has developed a line of supplements specific to the needs of people with hemochromatosis, available at MyHemochromatosisHelp.com.
Natural Remedies for Hemochromatosis
Join the Hemochromatosis Help Newsletter
Enter your email address below to receive an instant download sample of my book, Holistic Help for Hemochromatosis.
In addition, you will receive regular articles on: The problems of having high iron * How to think about diet, nutrition, and food * Holistic & natural solutions * Supplements to help improve you health * And more!