Receiving a diagnosis of hemochromatosis can be an odd mixture of confusion, fear, and sadness to go along with a flurry of questions like:
What is Hemochromatosis?
Is it genetic?
What does this mean for me and my family?
How can I treat it?
Where do I go from here?
Interestingly, finally getting a diagnosis can also bring a sense of relief.
I've known a number of people who felt quite reassured after finding out about their hemochromatosis diagnosis. At least now they have a name to give their condition. Other people must have it, too. They aren't imagining their symptoms and there is a reason they feel the way they do.
And now, finally, something can be done about it.
Diagnosis of Hemochromatosis
Ninety percent of cases of iron overload are caused by Type 1 Hereditary Hemochromatosis, a condition caused by a mutation of the HFE gene. If you would like to learn more about the genetics involved in hemochromatosis, please follow this link:
HFE Hereditary Hemochromatosis: Type 1
There are actually several steps along the way towards a diagnosis of hereditary hemochromatosis. Even though iron overload is a very common genetic disorder, many people go years or decades before they find out they have it.
Many doctors may not consider hemochromatosis in their diagnosis because they are thinking about other conditions that may have a similar presentation, such as arthritis, menopause, or general fatigue caused by any number of "normal" reasons. It is essential, however, that they be thorough and include iron overload in their differential diagnosis thought process.
Furthermore, the signs and symptoms of iron overload are often different for women and men. This may affect diagnosis because a doctor will have to account for the different ways a man or a woman may experience hemochromatosis.
Learn more about the differences in Men and Women with Hemochromatosis
Even though there are a number of individual and gender differences in iron overload, doctors can still come to a diagnosis of hemochromatosis based on a number of tests.
Iron Overload Diagnosis
There is a progression of testing when it comes to diagnosing iron overload. When it comes to blood tests, some markers that represent the level of iron in the body fluctuate relatively quickly (for example, serum iron). A one time test of slightly elevated serum iron is not enough to diagnose hemochromatosis, as there are other reasons that might cause iron levels to be elevated, such as inflammation or infection.
To be thorough, your doctor may evaluate a number of factors if he or she suspects iron overload. It is important to not jump to any conclusions on the path to diagnosis. The Mayo Clinic summarizes this well:
Hereditary hemochromatosis can be difficult to diagnose. Early symptoms such as stiff joints and fatigue may be due to conditions other than hemochromatosis.

Many people with the disease don't have any signs or symptoms other than elevated levels of iron in their blood. Hemochromatosis may be identified because of abnormal blood tests done for other reasons or from screening of family members of people diagnosed with the disease.
-- Mayo Clinic
This graph illustrates just how varied symptoms can present prior to diagnosing hemochromatosis: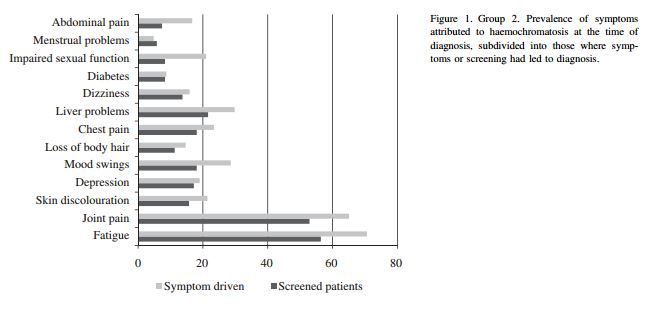 To understand the progression of diagnosis, let's start first with blood tests.
Blood Testing for Hemochromatosis
The two most important tests to begin with in potentially diagnosing iron overload are transferrin saturation and ferritin. Some doctors prefer to do these tests separately from one another, and some doctors like to do these tests together, so your experience will likely depend on your physician's preferences for blood testing.
Here is a good description of the basics of these two tests from the Mayo Clinic:
Serum transferrin saturation. This test measures the amount of iron bound to a protein (transferrin) that carries iron in your blood. Transferrin saturation values greater than 45 percent are considered too high.

Serum ferritin. This test measures the amount of iron stored in your liver. If the results of your serum transferrin saturation test are higher than normal, your doctor will check your serum ferritin.
Ferritin and Hemochromatosis Diagnosis
Regarding ferritin, I will add to the Mayo Clinic's description that elevated ferritin levels reflect stored iron in a number of organs, like the spleen, bone marrow, brain, joints, etc., not just the liver. While ferritin levels are frequently highest in the liver, ferritin is certainly not limited to only the liver.
Personally, I think of ferritin as representing the body's cellular burden of iron. This is the most straightforward way to characterize iron inside our cells.
Learn more about ferritin level here
Another consideration is that a number of other conditions besides hemochromatosis can cause an elevated ferritin level. Inflammation, infection, and liver disease are other common reasons that ferritin levels rise. Your physician will understand this, and should take it into account when diagnosing you.
Transferrin Saturation and Hemochromatosis Diagnosis
While transferrin saturation may also be increased for reasons outside of hemochromatosis (again due to issues such as inflammation, infection, and liver disease), this marker is often the first clue of iron overload. According to Dr. Andrea Duchini, MD:
High transferrin saturation is the earliest evidence of hemochromatosis; a value greater than 60% in men and 50% in women is highly specific.
Learn more about Transferrin Saturation here
Personally, this was my first clue because my transferrin saturation was 68%. I was 36-years-old when this measurement was made, and it caused me to look back at lab work I did 10 years prior. When I was 26, my transferrin saturation was 44%. I was literally one point below the upper limit, so it went unnoticed at the time… but I was only in my mid-20s. This comparison is illustrative of how slow and progressive iron storage can be. It also illustrates that I went an entire decade without addressing this condition despite the clues being right there for any healthcare provider to see!
Moreover, it shows how difficult it can be to diagnose hemochromatosis. Awareness and early diagnosis are essential. For example, Dr. Duchini expresses how challenging it can be:
Approximately 30% of women younger than 30 years who have hemochromatosis do not have elevated transferrin saturation.
Women in their early 20s have written to me about their stories, and a common theme is that they went years without proper diagnosis in spite of having symptoms of hemochromatosis. Being young may have something to do with this, but I've also seen how there are many misconceptions of how hemochromatosis affects women differently than men.
From a lab testing perspective, however, there are different standards (that do make sense) for men and women. Dr. Duchini again:
Serum ferritin levels elevated higher than 200 mcg/L in premenopausal women and 300 mcg/L in men and postmenopausal women indicate primary iron overload due to hemochromatosis, especially when associated with high transferrin saturation and evidence of liver disease.
Genetic Testing in the Diagnosis of Hemochromatosis
If transferrin saturation and/or ferritin are elevated, the next step in hemochromatosis diagnosis is often genetic testing.
Genetic testing often entails another blood draw, although some lab companies offer a test that involves swabbing the inside of your mouth to collect cells to test. Both tests are evaluating the DNA for possible changes of the HFE gene.
The genes associated with iron overload include:
C282Y is the most relevant gene mutation, and when a person has two copies of the C282Y gene they are considered to be a homozygous carrier of the hemochromatosis gene. When a person has one copy of C282Y and one copy of H63D, they are considered to be a compound heterozygote carrier of the hemochromatosis gene. S65C is not considered to be as important as the other two genes.
Once a physician has evaluated a person's signs and symptoms, his or her transferrin saturation and ferritin levels, and the genetic test, a diagnosis of hemochromatosis may be made.
Many physicians will only give a hemochromatosis diagnosis to an individual homozygous for C282Y (meaning they have two copies). Many articles, lab reports, and health care providers simply do not consider it to be "hemochromatosis" without two mutations of the C282Y gene.
According to both research and numerous individual experiences, however, this view may be too restrictive. One review examined clinical diagnosis of hemochromatosis, and found a meaningful percentage of individuals suffering from iron overload who were not C282Y homozygotes.
This 2001 review from the American Journal of Epidemiology titled, HFE gene and hereditary hemochromatosis: a HuGE review. Human Genome Epidemiology stated:
Homozygosity for the C282Y mutation was found in 52-100% of previous studies on clinically diagnosed probands. In this review, 5% of HHC probands were found to be compound heterozygotes (C282Y/H63D), and 1.5% were homozygous for the H63D mutation; 3.6% were C282Y heterozygotes, and 5.2% were H63D heterozygotes. In 7% of cases, C282Y and H63D mutations were not present.
From: https://www.ncbi.nlm.nih.gov/pubmed/11479183
This study indicates that a number of individuals who are either compound heterozygotes (C282Y + H63D) or are heterozygous carriers of a single C282Y or a single H63D gene may develop symptoms consistent with hemochromatosis. Often times, these people are told by their doctors that they do not have iron overload and therefore they do not take any steps to address this aspect of their health. I feel this is a very unfortunate perspective because it indicates a lack of awareness for the detrimental effects of having too much iron. I prefer to be proactive and encourage preventive steps to enhance health.
Follow this link to learn more about Hemochromatosis Lab Tests
Should my family members get tested for hemochromatosis?
Because hemochromatosis is hereditary, the question next turns to the family members. Should any other blood relative family members be checked? What about children? Dr. Duchini explains:
Family members identified as having C282Y homozygosity should be tested for transferrin saturation, serum ferritin, and liver enzymes; screening of young children of patients with hemochromatosis does not need to be performed if the spouse is tested and does not have the C282Y mutation.
Early awareness is essential. The sooner a person with iron overload can be diagnosed, the better. Treatments are abundant, and outcomes are better when started earlier. As a result, consult with your doctor and please tell your family about hemochromatosis!
Other Testing for Hemochromatosis
Your physician may want to proceed with additional testing to acquire more information about the state of your iron overload. These next steps are, so to speak, at the "next level" because they go beyond basic evaluation of a person's health. Testing may include:
Diagnostic Imaging- Imaging studies such as MRI and CT Scans are often recommended as a relatively non-invasive way to assess how severe the iron overload is upon the liver and other internal organs. An MRI is generally strongly favored over a CT Scan, and is considered a more specific and more sensitive test for hemochromatosis.
Liver Biopsy- Tissue samples of the liver may be taken via a small needle for evaluation under a microscope. A liver biopsy may help to determine how significant the burden of too much iron is upon the liver.
Associated Condition Specific Testing- Hemochromatosis can affect organs such as the liver, heart, and spleen along with the joints and the glands of the hormone system. As a result, your physician may also wish to evaluate the health of these systems.
Hemochromatosis Prognosis
Hereditary hemochromatosis causes a progressive loading of iron over time. For individuals with the most severe cases of iron overload, they can suffer from permanent damage like scarring or cirrhosis of the liver which can, in turn, lead to liver cancer.
In certain situations, the prognosis can be dire. Iron overload can progress to the point where symptoms and damage is irreversible. As a result, it is crucial to identify and diagnose hemochromatosis early. Therapies such as therapeutic phlebotomy and medication can have profound healing effects. We just have to catch it as early as possible, so we can take all the steps necessary to prevent the buildup of too much iron.
Be sure to talk with your doctor and your family to make sure you all have the proper diagnosis of hemochromatosis.
Dr. Eric Lewis is a naturopathic physician who also has hereditary hemochromatosis. With his unique perspective of being both a practitioner and a patient, he brings new insight into holistic approaches to iron overload, providing new understanding about the best diet and supplementation strategies to help support health with hemochromatosis.
He is the author of Holistic Help for Hemochromatosis and he has developed a line of supplements specific to the needs of people with hemochromatosis, available at MyHemochromatosisHelp.com.
Iron Overload: The Basics
Join the Hemochromatosis Help Newsletter
Enter your email address below to receive an instant download sample of my book, Holistic Help for Hemochromatosis.
In addition, you will receive regular articles on: The problems of having high iron * How to think about diet, nutrition, and food * Holistic & natural solutions * Supplements to help improve you health * And more!
Hemochromatosis Help Newsletter
Enter your email address to receive an instant download sample of my book, Holistic Help for Hemochromatosis.
In addition you will receive regular articles on:
* The problems of having high iron
* How to think about diet, nutrition, and food
* Holistic & natural solutions
* Supplements to help improve your health